---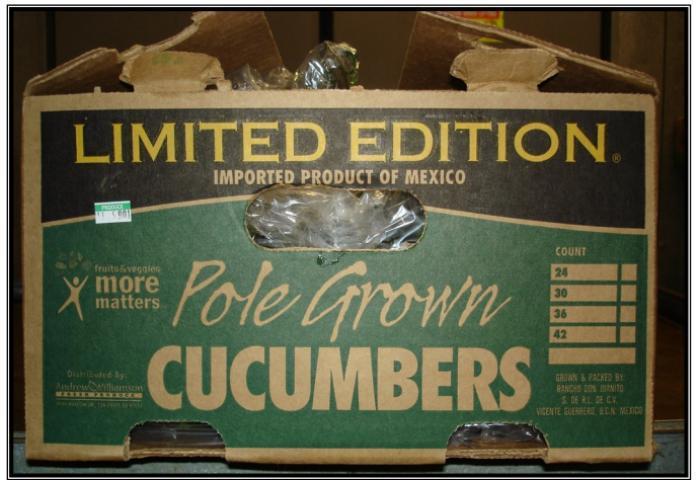 A 99-year-old San Diego woman has died and nearly 300 other people have been sickened by the latest salmonella outbreak, this one blamed on cucumbers.
The cucumbers were distributed by Andrew & Williamson Fresh Produce, San Diego, using the company's "Limited Edition" label from Aug. 1 to Thursday.
Consumers should return the cucumbers or dispose of them and should handle them only with gloves or other protective gear.
So far, the Centers for Disease Control and Prevention (CDC) has counted 285 illnesses, including 53 hospitalizations in 27 states. The 99-year-old San Diego woman is the only known fatality.
"The safety and welfare of consumers is the highest priority for our company. We are taking all precautions possible to prevent further consumption of this product and are working to learn if and how these cucumbers are involved in the ongoing outbreak," company president Fred Williamson said in a statement.
Limited Edition cucumbers were distributed in the states of Alaska, Arizona, Arkansas, California, Colorado, Florida, Idaho, Illinois, Kansas, Kentucky, Louisiana, Minnesota, Mississippi, Montana, Nevada, New Jersey, New Mexico, Oklahoma, Oregon, South Carolina, Texas, and Utah. Further distribution to other states may have occurred. Salmonella outbreaks were reported in several states that did not receive direct shipments of the product, including Missouri, Nebraska, New York, North Dakota, Ohio, Virginia, Washington, Wisconsin and Wyoming.
About salmonella
Most people infected with salmonella develop the following signs and symptoms 12-72 hours after being exposed to the bacteria:
Diarrhea
Fever
Abdominal cramps
The illness usually lasts 4 to 7 days, and most people recover without treatment. In some people, the diarrhea may be so severe that the patient needs to be hospitalized. Salmonella infection may spread from the intestines to the bloodstream and then to other places in the body. In rare cases, Salmonella infection can cause death unless the person is treated promptly with antibiotics.
Children younger than 5 years, adults older than 65 and those with weakened immune systems are more likely to be severely affected.
---