---
2014 Lexus IS 250 (Lexus photo)

The two newest luxury sedans from Japan -- the Infiniti Q50 and the Lexus IS 250 -- are taking their lumps in the latest Consumer Reports ratings, where they wound up below
competitors from BMW, Mercedes-Benz, Lincoln, and Volvo.
The Q50 was intended to replace the G37 in Infiniti's lineup, but reviewers from the non-profit magazine are not impressed.
"The Infiniti G has been one of Consumer Reports' highest-rated sedans for many years, but after its 2014 redesign and transition to the new Q designation, this car seems to have lost its way," said Jake Fisher, director of automotive testing for Consumer Reports.
The Infiniti Q50 posted a "Very Good" overall road test score but still landed near the bottom of the rankings for sporty and upscale sedans.
The IS 250 scored merely a "Good." It was the worst road test score posted by any Lexus sedan in recent memory. Other competitors posting higher overall road test scores include the BMW 328i, Mercedes-Benz C250, Lincoln MKZ 2.0 EcoBoost and Volvo S60 T5.
Not as much fun
CR's engineers and editors found that the Q50 isn't as much fun to drive as the G37. Handling is mundane, due in part to dull steering. The underwhelming driving experience strips the car of much of its sporty legacy. The Q50 also doesn't ride well and isn't particularly quiet. Its new InTouch dual-screen controls are slow to respond, and interior quality is nothing special. On the plus side, the Q50 is very quick, even with the added weight of the optional all-wheel-drive system.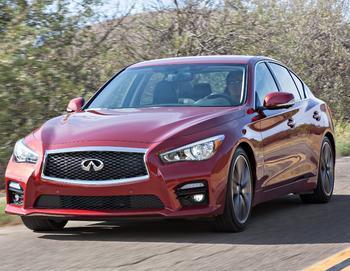 Consumer Reports' testers found the Lexus IS 250 is neither sporty nor luxurious. CR purchased and evaluated the IS 250 with the small 2.5-liter V6 because that is the model most consumers will buy; the test vehicle is also fitted with all-wheel-drive, a popular option. In that trim, the vehicle's acceleration lacks punch. Fuel economy is disappointing at 21 mpg overall in CR's own tests.
Complete tests results for the Infiniti Q50 and Lexus IS250, as well as results of the new Fiat 500L and Nissan Versa Note appear on www.ConsumerReports.org and in the December issue of Consumer Reports, on newsstands November 5.
---