---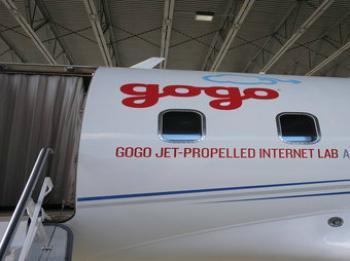 Nearly 90 percent of U.S. travelers think every airline flight should have fast Wi-Fi service. Of course, the survey was conducted by Honeywell, which makes -- you guessed it -- equipment that provides in-flight Wi-Fi.
But while everyone thinks Wi-Fi should be both available and fast, they also seem to think it should be free. Gogo, the biggest in-flight Internet provider, says only about 6% of potential customers actually cough up their credit cards to stay connected.
That doesn't seem to foretell a massive amount of pent-up demand. Nevertheless, Gogo is upping the ante, announcing today that it is implementing a new system that combines satellite and cell towers on the ground to provide in-flight Web speeds up to six times faster than current speeds.
Shared signal
The primary problem at the moment is that the satellite signal is shared by everyone using the service on a particular flight. Thus, it may start out being fairly adequate only to stall to turtle-like velocity as more travelers boot up their laptops.
Current satellite-to-airplane speeds range from 3 to 10 megabits per second, divided by however many travelers are logged on. Gogo says the new service will be on the order of 60 mbps, which will be great if it works.
Virgin America says it will roll out Gogo's new service in the second half of 2014 and says it plans to eventually upgrade all 53 of its aircraft.
JetBlue, meanwhile, has just received government approval for a new high-capacity satellite link that will support streaming video from Netflix and Hulu, among others. JetBlue doesn't have Internet service at the moment. It says it will launch the service this year and hopes to equip its entire fleet of 180 aircraft by the end of 2015.
Price points
Currently, travelers pay anywhere from nothing to quite a bit for in-flight Internet. Some carriers provide free service in first class and business. Gogo charges $14 for a single day's usage or $50 for a monthly pass.
JetBlue says it hasn't finalized pricing but basic Internet will be free, at least at first, with a charge for streaming video, which uses more bandwidth.
Southwest, never one to hesitate to undercut the competition, currently offers three live video channels and up to 75 television episodes from popular series in partnership with the Dish Network. It charges $8 a day for "regular" Internet usage, meaning web browsing, email, etc.
As one who flies both Virgin and Southwest, I have found Southwest's service to be roughly comparable to Virgin's in terms of speed. Considering it costs nearly half as much, that has to be counted as a plus.
Speaking of payments, Gogo says it is now working with Amazon Payments to offer Gogo users the ability to pay for their in-flight Internet sessions using the information stored in their Amazon accounts.
This saves you the inconvenience of digging out your credit card and trying to shield it from prying eyes while ordering up the day's serving of Wi-Fi.
---