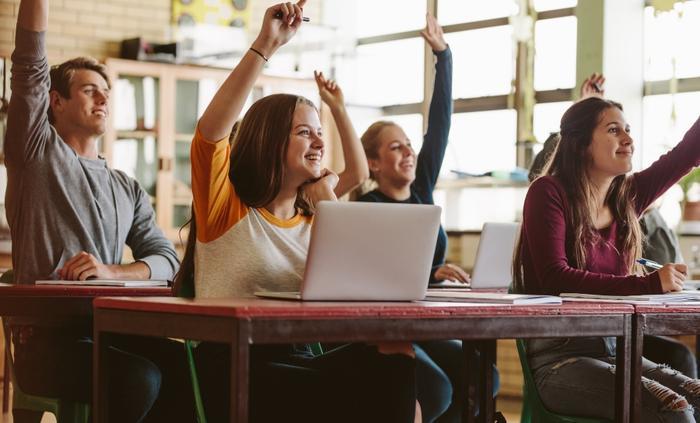 Although parents are somewhat divided on the issue, researchers have said for years that later school start times would benefit children's and teens' health and development. Now, a new study reaffirms that a later start to the school day would allow students to get more sleep and be more engaged in their schoolwork.
Researchers from Colorado working with the American Academy of Sleep Medicine analyzed how delayed school start times affected middle and high school students. After one year of pushing start times back by 50-70 minutes, the researchers found that students were getting healthier amounts of sleep and were more engaged in the classroom.
"Biological changes in the circadian rhythm, or internal clock, during puberty prevents teens from falling asleep early enough to get sufficient sleep when faced with early school start times," explains Dr. Lisa J. Meltzer, the study's principal investigator.
"This study provides additional support that delaying middle and high school start times results in increased sleep duration for adolescents due to later wake times."
More sleep and better engagement
To come to their conclusions, the researchers surveyed over 15,000 students in grades 6-11 who were enrolled in the Cherry Creek School District in Greenwood Village, Colorado. Responses were collected in spring 2017 and spring 2018 -- before and after school start times were pushed back.
After collecting all of the responses, the number of middle school students who reported feeling too sleepy to do their homework declined from 46 percent to 35 percent after the time change. The shift was even more dramatic for high school students, dropping from 71 percent to 56 percent.
The researchers noted that scores for academic engagement also increased after school start times were pushed back. The district's school superintendent, Scott Siegfried, says that this change can be attributed to students' ability to get more sleep and come into school feeling rested.
"I don't know how many of our high school students have come up to me and said, 'This has changed my life for the better.' They've told me they're getting up to an hour of additional sleep before school starts," Siegfried said. "That extra sleep makes a real difference in terms of health and wellness. The input from our students and the numbers from this landmark study point to the same conclusion: The change in our start times has been a positive step and benefited our students' everyday routines."
The full study is scheduled to be presented on June 12 at the SLEEP 2019 conference in San Antonio, and an abstract has been published in the journal Sleep.