---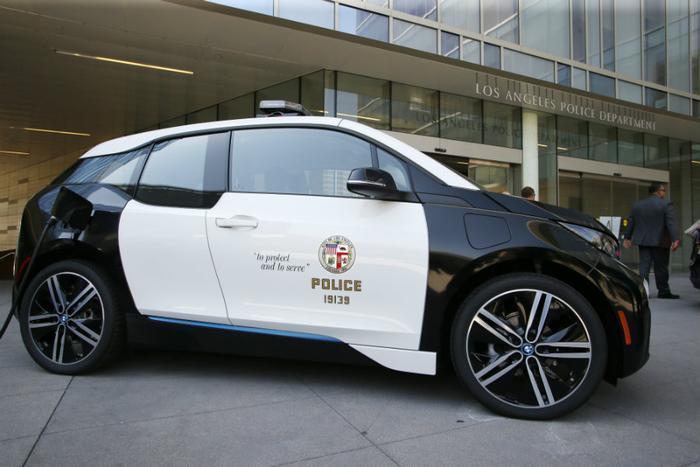 You may not see them in any of those freeway chases for which LA is famous, but the Los Angeles Police Department is putting 100 all-electric BMW i3s on the streets, using them primarily for non-emergency purposes.
The Los Angeles Times said the LAPD also tested Tesla's high-end Model S P90D but settled on the smaller, less powerful i3 instead. It will be leasing the little cars for three years for $387 per car.
"We should be thinking green in everything we do — and these new EVs show how local government can lead," said Mayor Eric Garcetti. "Our sustainability plan pushes L.A. to speed adoption of greener practices and technologies, which also save money and resources."  
The i3s bgan hitting the streets this spring and will be in use citywide in a few months.
Some with REx
The LAPD will be getting 100 Level 2 chargers and four DC fast chargers to keep the cars charged up and ready for action. Some of the cars may also be equipped with BMW's range extender known as REx, a small gas generator that is supposed to kick in when the battery is out of juice.
REx is the subject of a recent class action lawsuit, however, which alleges that the range extender fails to live up to its billing and sometimes causes the i3 to suddenly shift into "limp" mode, slowing to 15 miles per hour. 
Nevertheless, BMW executives and Los Angeles city officials were all smiles as they announced the deal, emphasizing the cars' economy and its ConnectedDrive system, which includes a number of fleet management features.
"The attributes of the BMW i3 position it to excel as the ideal vehicle for municipal organizations. The performance and technical capabilities, such as the BMW i3's acceleration, and its ConnectedDrive integration, are perfectly suited to transform the future mobility of the Los Angeles Police Department while also reducing their carbon footprint," said Ludwig Willisch, President and CEO of BMW of North America.   
The BMW i3 has a base MSRP of $42,400 and the range-extender model starts at $46,250, before any federal or applicable state incentives.  
---