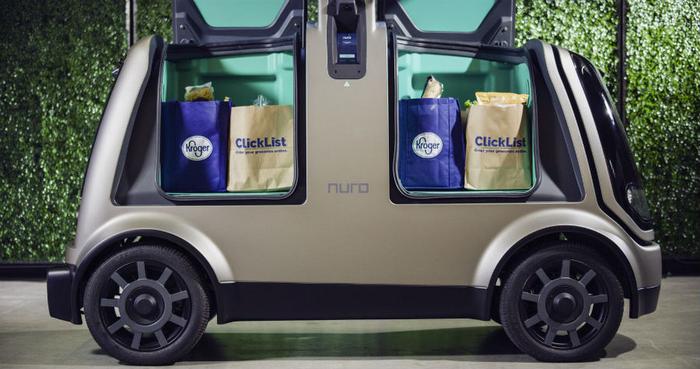 Kroger announced on Thursday that it's partnering with electric vehicle startup Nuro to launch driverless grocery deliveries.
Consumers will be able to place same-day delivery orders through Kroger's ClickList program and Nuro's app. Kroger employees will then load one of Nuro's electric powered vehicles and send the unmanned vehicle on its way.
Nuro's R1 delivery vans are small and intended solely to deliver goods. Once the vehicle arrives at its destination, the customer must bring the grocery bags to their doorstep since there is no human on board to assist. Customers will get a code to open the R1 via the app.
A pilot program is expected to launch this fall, although the company hasn't said where the test will take place. Nuro is still in the process of obtaining regulatory approval for the program.
"We are incredibly excited about the potential of our innovative partnership with Nuro to bring the future of grocery delivery to customers today," Yael Cosset, Kroger's chief digital officer, said in a statement.
Kroger serves around 9 million customers per day, and nearly three-quarters of those customers have access or use Kroger's delivery services, according to Yael Cosset, the company's chief digital officer.
Battle with Amazon
Kroger and other traditional grocery chains have ramped up their efforts to bring last-mile delivery to more consumers as a way of competing against Amazon. The e-commerce giant purchased Whole Foods last year and began offering free local two-hour delivery to Prime subscribers in some markets.
Walmart announced recently that was teaming up with Postmates to expand its online delivery program. Last month, Kroger agreed to buy a stake in British online grocer Ocado and license technology that helps other grocers run automated warehouses and deliver food to customers' doors.
"Unmanned delivery will be a game-changer for local commerce, and together with Kroger, we're thrilled to test this new delivery experience to bring grocery customers new levels of convenience and value," said Dave Ferguson, co-founder of Nuro, in a statement.
"Our safe, reliable, and affordable service, combined with Kroger's ubiquitous brand, is a powerful first step in our mission to accelerate the benefits of robotics for everyday life."