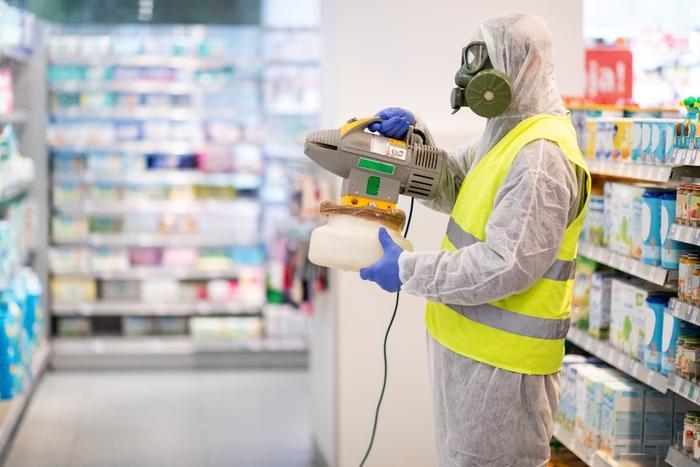 In a joint appeal, Kroger and the United Food and Commercial Workers International Union (UFCW), America's largest food and retail union, are asking federal and state governments to immediately designate associates at grocery stores as "extended first responders" or "emergency personnel." 
Both the grocery chain and the union say the workers are on the front lines of sustaining the country's food supply in the face of the coronavirus (COVID-19) pandemic. 
Being designated emergency personnel would put grocery workers on the same footing as health care workers, police, and firefighters, and it would give them the same priority access to masks, gloves, and other protective gear.
'Significant daily risk'
Kroger Chairman and CEO Rodney McMullen and UFCW International President Marc Perrone released a joint statement saying that grocery workers report to work each day and play a critical role in keeping consumers supplied with food and essentials.
"Given the significant daily risk these workers face, we are calling on all of our federal and state leaders to take immediate action," the statement said. "Specifically, we are requesting our nation's leaders to assign a temporary designation of first responder or emergency personnel status for all grocery workers. Make no mistake, this designation is absolutely critical as it will ensure these frontline workers have priority access to personal protection equipment like masks and gloves."
The appeal comes amid growing concerns about the nation's food supply chain -- from producing products on farms to processing those products and moving them to retail stores. Farmers have also said they need more protection, as have the nation's independent truck drivers.
Earlier this month, the Owner-Operator Independent Truck Drivers Association appealed to the White House for help for its members. In a letter to the president, CEO Todd Spencer said his members are exposed to COVID-19 every day because of their jobs.
"They don't have access to personal protection equipment or any practical means to know when they may be falling ill or any practical solution if they need treatment or self-isolation," Spencer wrote. "Access to testing must be available where they are, particularly on busy truck routes. And testing must show results in hours, not days."
Without help, Spencer warned that many drivers might park their trucks when word spreads that more of them are testing positive. That, he warns, could threaten the nation's vital food supply chain.
Huge pork plant remains closed
Smithfield CEO Ken Sullivan expressed a similar concern after the governor of South Dakota ordered the company's largest pork processing plant to remain closed. The governor issued the order after 200 employees tested positive for the coronavirus.
"We have a stark choice as a nation: we are either going to produce food or not, even in the face of COVID-19," Sullivan said in a statement. "It is impossible to keep our grocery stores stocked if our plants are not running."
The Food and Drug Administration (FDA) says there is no evidence that the coronavirus is transmitted through food, and most scientists agree. Donald Schaffner, a professor of food microbiology at Rutgers University, told The Hill that the biggest risk concerning food is that it won't make its way to supermarket shelves.