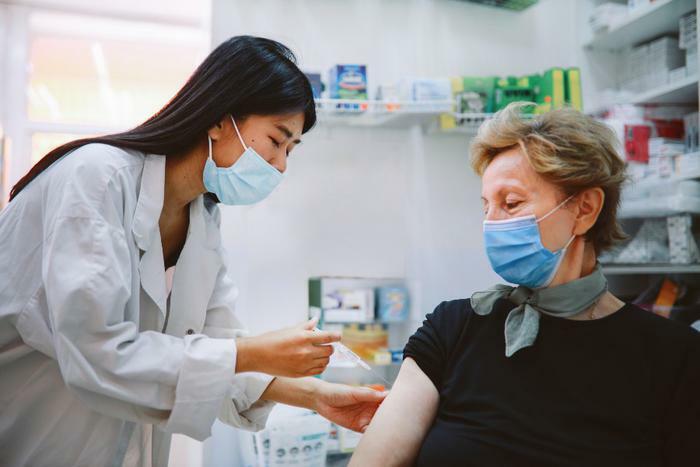 Kroger announced Thursday that it plans to administer one million doses of COVID-19 vaccines weekly. 
The grocery store chain said it has "significantly increased operational capacity to administer the COVID-19 vaccine." Starting this week, the company plans to use the first hour of pharmacy operations to administer COVID-19 vaccines. The morning "focus hour" will allow designated time for COVID-19 vaccines to be administered, Kroger said. 
The company also plans to launch 100 off-site mass vaccination events starting this month in Kentucky and Ohio, with more states to follow. 
Helping the vaccine rollout
Kroger began administering the vaccines in December. Since then, it has pushed hard to get the vaccines into as many arms as possible. Colleen Lindholz, president of Kroger Health, said Kroger will soon reach "full capacity" in its vaccine distribution effort. 
"I'm so proud of Kroger Health and our teams across the country whose dedication, commitment, and flexibility are helping America confront and recover from this public health crisis," Lindholz said in a statement. 
"By the end of this week, Kroger Health will have administered one million doses of COVID-19 vaccines, and we're only getting started. We're here to collaborate with our existing federal and state partners, and we're ready to work with other states to accelerate the vaccination of more Americans and reach our full capacity, leveraging our 2,250 pharmacy and 220 clinic locations." 
Kroger offers a scheduling tool that allows consumers to check their vaccination eligibility. Once eligible, consumers can schedule appointments for both their first and second doses. Kroger is currently administering the three vaccines authorized by the FDA -- Pfizer/BioNTech's, Johnson & Johnson's, and Moderna's.