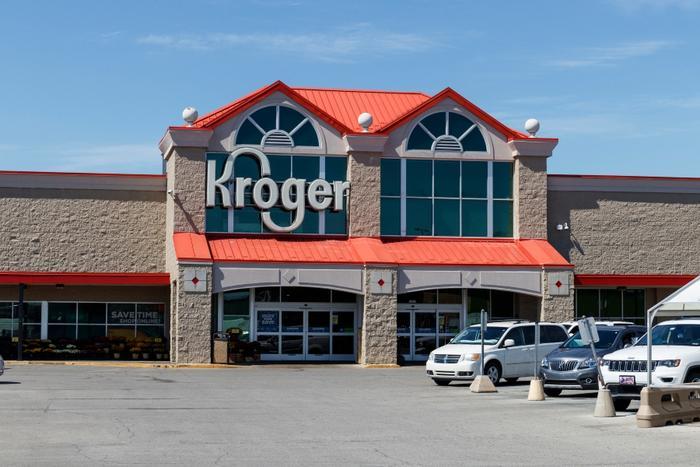 Grocery stores are one of the few categories of retailers allowed to stay open in states that have ordered coronavirus (COVID-19) lockdowns, but most are taking extra precautions to protect both employees and customers.
Kroger, which has seen its business surge in the wake of the pandemic, announced this week that it would start limiting the number of customers inside its stores. Starting today, no more than 50 percent of a store's international building code capacity will be allowed inside at one time.
Stores have already instituted social distancing policies, with lines on the floor to keep people in checkout lines at least six feet apart.
"Kroger's introduction of customer capacity limits is one more way we are doing our part to flatten the curve while operating as an essential business," said Mary Ellen Adcock, Kroger's senior vice president of operations. "During this national pandemic, we are committed to adopting preventive measures to help protect the safety and health of our associates, customers, and communities."
Using technology to count shoppers
The standard building capacity for a grocery store is one person per 60 square feet, but Kroger has doubled that for the duration of the pandemic, limiting shoppers to one per 120 square feet. The grocery chains said it will begin to monitor the number of customers per square foot in its stores using its QueVision technology, which has previously been used to count customers entering and exiting stores.
The move could be especially important this week as health officials expect the coronavirus to peak in many areas of the country. At a weekend press briefing, Dr. Deborah Birx, a member of the White House coronavirus task force, suggested consumers avoid grocery stores altogether this week and next. 
"The next two weeks are extraordinarily important," Birx said. "This is the moment to do everything that you can on the president's guidelines. This is the moment to not be going to the grocery store and not be going to the pharmacy – but doing everything you can to keep your family and your friends safe."
Union input
The United Food and Commercial Workers International Union says it has negotiated with Kroger for additional safeguards for associates and customers. Among them are additional cleaning and sanitizing protocols that allow associates to wash their hands and sanitize their registers every 30 minutes.
The company and the union also agreed on shortening store hours to allow time for restocking, cleaning, and to provide appropriate rest and relief for associates. 
Kroger also agreed to a $2 an hour pay increase for hourly frontline associates in retail stores, manufacturing plants, distribution centers, central fills, pharmacies, and contact call centers for at least the next three weeks.