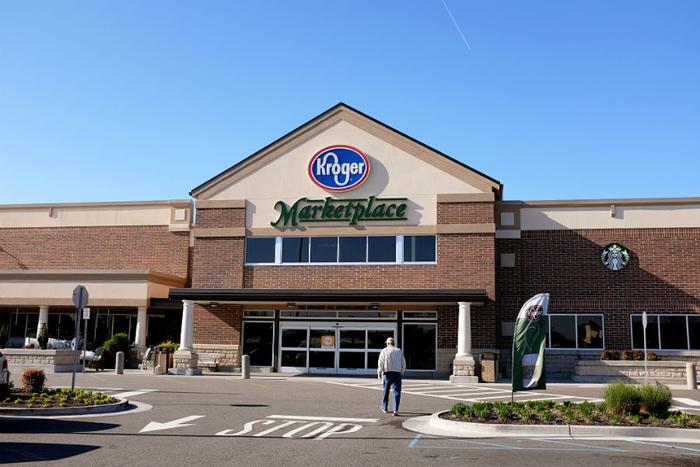 The Kroger Co., the largest retail grocery chain in the U.S., has decided that if consumer behavior is going to keep moving toward online vs. in-store, it's saddling up, too. On Tuesday, the company announced Kroger Ship will stretch the number and types of available products and offer an extended ship-to-home assortment through a marketplace offering of third-party sellers. 
Kroger has been pushing itself in this direction for nearly three years -- with Microsoft to build connected stores and with a robotics company to build high-tech fulfillment centers. 
While the COVID-19 pandemic has had a largely negative impact on retailers, Kroger has demonstrated the potential of online for its customers. In the company's first quarter 2020 results, its digital sales grew 92 percent.
"Our customers are increasingly turning to our e-commerce solutions provided at Kroger.com for their grocery and household essential needs. To better serve our customers, we're continuing to invest in technology that enables us to expand our digital services to deliver anything, anytime, anywhere," said Jody Kalmbach, Kroger's group vice president of product experience. 
50,000 products to start
Kroger's strategy will start with more than 50,000 products from third-party sellers, focusing on specialty items which it's never carried before. Those will include natural, organic, and international products, as well as toys, housewares, and seasonal items. Eligible orders will qualify for fuel points and other discounts tied to the Kroger-Plus card. There is a minimum purchase of $35 to get free shipping. 
Kroger isn't going into this expansion alone. To help it navigate the rigors of becoming an online "marketplace," it contracted Mirakl (like "miracle"), a French e-commerce software developer. The company brings success stories to the initiative -- having worked with Urban Outfitters, Albertsons, Walmart Mexico, and Best Buy Canada -- but Kroger will be the biggest fish it's ever caught.
"Leveraging Mirakl's best-in-class marketplace solution, we are broadening Kroger's ship-to-home capabilities by offering more relevant products for our customers through exciting new partnerships with reputable third-party sellers," Kalmbach said.
Good move or bad move?
The success that Kroger has had in the digital arena speaks for itself. Building out an infinite number of product aisles will undoubtedly benefit the chain as a whole, including its existing delivery service Pickup.
"But Kroger will have to convince shoppers to buy from its site as opposed to Amazon, Target or online specialty grocers like Thrive Market that have recently gained momentum — a challenge it is all too familiar with at this point," says Grocery Dive's Jeff Wells. Wells also brought up Walmart, which has doubled the number of sellers on its own marketplace to 50,000 over the past year.
Wells notes that adding third-party sellers has gotten messy for companies like Amazon, which has been raked over the coals for offering unsafe and counterfeit products on its marketplace. Kroger may be able to cover that angle by relying on Mirakl to vet potential sellers and carefully screen those it does business with.