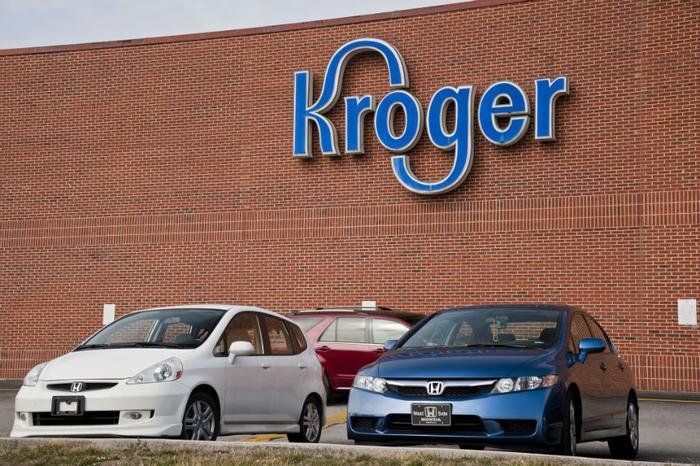 Back in June, Kroger announced that it was partnering with self-driving startup Nuro to introduce a grocery delivery service. The autonomous delivery service, which delivered items via a self-driving Toyota Prius with safety drivers on board, was piloted two months later in Arizona.
On Tuesday, Kroger and Nuro announced that they would deliver groceries in the Scottsdale, Arizona area using an autonomous vehicle called the R1. The vehicle does not have a steering wheel or any seats for people
"It was very cool to see it pull up. It was a lot smaller than I thought it would be," Shannon Baggett, who lives in a Phoenix suburb of Scottsdale, told the Associated Press. "I told my husband, 'We just got our groceries delivered by a robot.'"
The R1 can operate on public roads, does not require a driver, and doesn't have room for passengers. The vehicle's sole purpose is to transport goods. At this point in time, Kroger is using the R1 to make deliveries from one Fry's Food Store location in Scottsdale.
"A world without errands"
Customers can place orders online or via Kroger's mobile app, then schedule same-day or next-day delivery for their groceries. Orders will be delivered either by Nuro's R1 vehicle or a self-driving Prius.
A text message is sent to customers once the delivery has arrived outside of their residence. The message contains a code to punch in to open the doors of the delivery vehicle.
"Nuro envisions a world without errands, where everything is on-demand and can be delivered affordably," President Dave Ferguson said in a statement. "Operating a delivery service using our custom unmanned vehicles is an important first step toward that goal"
Although the vehicles are unmanned, they will be followed by a "shadow car" for safety purposes during the early stages of the program. Inside each shadow car will be a driver with the ability to stop or control the autonomous vehicle. The use of shadow cars will eventually be phased out completely.
Arizona has been the setting of several companies' autonomous vehicle program pilots, including Uber and Waymo.
Earlier this year, Uber halted its self-driving car program after one of its vehicles struck and killed a pedestrian as she was crossing the street in a Phoenix suburb. Waymo, Google's self-driving car division, recently launched a ride-hailing service available to about 200 people in Arizona that will have a backup driver behind the wheel as a precaution.