---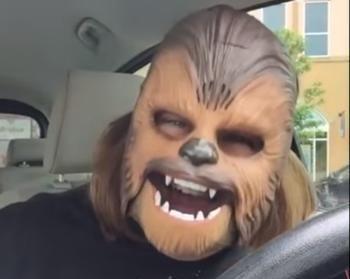 One Texas mom found herself to be the star of a viral video over the weekend, and it all started with an impulse buy at Kohl's.
When Candace Payne recorded a Facebook Live video of herself trying on a Chewbacca mask, the internet took notice. Payne's infectious, childlike glee radiated from behind the Star Wars mask, turning the video into the hit it would soon become.
The four-minute video quickly amassed a record setting number of views. At 130 million views and counting, it is now the most watched Facebook Live video of all time.
Kohl's reacts
Kohl's representatives thanked their newest spokeswoman by showing up to her door with $2,500 in Kohl's gift cards, several more Chewbacca masks, and a plethora of Star Wars merchandise.
"We don't want you to have to share your Chewbacca mask, so we 'confinsctated' masks for everybody," a Kohl's rep tells Candace Payne in a follow-up video posted to Facebook.
"We want to thank you for being a loyal Kohl's shopper," he says. "We can't tell you how much we appreciate that."
But while Payne and her family may be set on masks, Kohl's has struggled to keep up with sudden demand. The Star Wars: Episode VII The Force Awakens Chewbacca Mask by Hasbro is flying off the shelves at Kohl's and other retailers. 
The now-famous electronic mask is currently sold out on Kohl's.com, a Kohl's spokesperson told CNBC.
"It's the simple joys," Payne giggles after taking off the mask. Clearly, the internet agrees.
---