---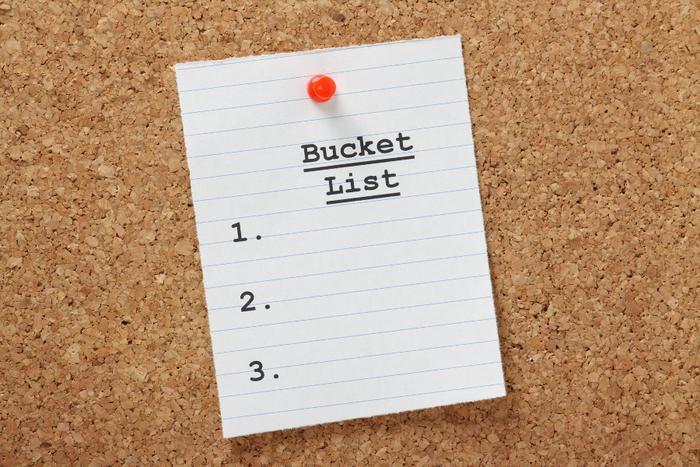 As they get into middle age many people start creating their bucket list. A list of things you want to do before you expire. Before your due date. OK -- to put it simply: before you kick the bucket. Now there's a new trend for bucket lists and it involves families doing bucket lists together.
So what is it about having a bucket list that makes people happy? Dr. Timothy Sharp is a clinical and coaching psychologist and the author of "Live Happier, Live Longer." He says that bucket lists make people happy because they allow people to "do more of the things that they love."
If bucket lists can make individuals feel more fulfilled, it would seem they can make families more united too. Sharp says that the principles of bucket lists can be applied to any area of our lives. He suggests that for family bucket lists to work well, it is important to review them on a regular basis.
Lara Krupicka is a family bucket list advocate, best known for her "Bucket List Life Manifesto" and her books "Family Bucket Lists" and "Bucket List Living For Moms."
"When you allow your bucket list to converge with everyday life, you'll find a whole host of benefits unfold in your life. And when you bring your family along… well, let's just say your life will never be the same," she said.
More meaningful
It's actually a goal-setting adventure for your family. For example: Think about things you would like to do before the kids are grown and out of the house.
You can really discover things about each other because everyone gets very personal about what they dream for themselves and others.
It can make everyday living more meaningful because you set out with a purpose looking for an end result. But bucket lists can be taken in baby steps and small things you do everyday could be on your list.
It's an opportunity to break long-term, seemingly impossible ideas down into manageable short-term events – and then live them out.
Luke Sheedy author of the "Discover Your Path, Your Life is Worth Living," says that creating and working through a family bucket list will "help build strong foundations and deeper connections between family members."
You are probably thinking it sounds great how do we get started. Uh, there's an app for that -- in fact there are many apps for that. Lara lists several on her website.
If nothing else, it's a great family exercise that will get you all talking and planning and working toward a common goal.
---