---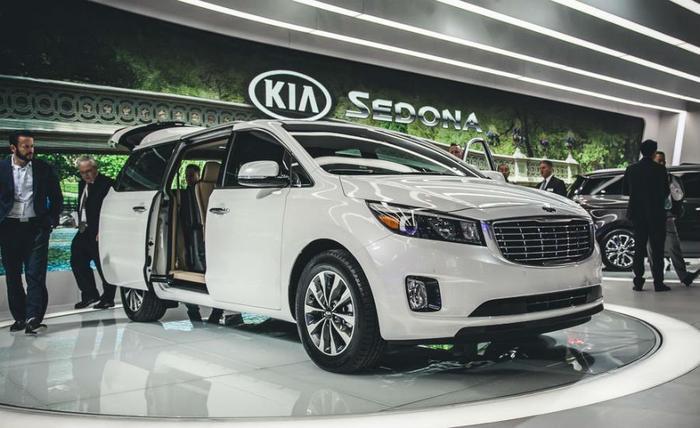 With lower gasoline prices over the last year, many families have renewed their infatuation with the SUV. For others, the minivan is still indispensable for hauling around kids and pets.
But which one?
Cars.com recently teamed up with PBS's MotorWeek to evaluate current models of minivans and put them in a head-to-head competition. The project enlisted the help of a real family who was actually in the market for a new minivan.
The competition was narrowed to the five most popular models: the 2015 Chrysler Town & Country, 2015 Dodge Grand Caravan, 2015 Honda Odyssey, 2015 Kia Sedona, and 2015 Toyota Sienna.
The winner?
Champion of quality and refinement
"The all-new Kia Sedona is a champion of quality and refinement," said Patrick Olsen, Cars.com editor-in-chief. "A great ride combined with a quiet cabin and numerous innovative features made the Sedona an obvious selection as the ultimate minivan."
The rankings shook out this way:
2015 Kia Sedona
2015 Toyota Sienna
2015 Honda Odyssey
2015 Dodge Grand Caravan
2015 Chrysler Town & Country
"Minivans are among the most utilitarian vehicles sold today," said Olsen. "It's not uncommon for minivan shoppers to buy them fully loaded, so we tested the 'ultimate' minivans with a price cap of $50,000, allowing us to assess the current offerings in technology, features and drivetrains."
Extensive testing
The five minivans went through extensive testing that included a 135-mile course on varying road types. The objective was to test each minivan for real-world MPG.
To keep a level playing field, the vehicles were subjected to round-robin testing. Multiple experts drove each minivan back-to-back on the same course to test ride, handling, comfort, acceleration, and more.
The family brought the consumer perspective. It tested each minivan to judge features, cargo space, ride, and extras.
So what set the Sedona apart? It won rare praise for a minivan for it's look.
Doing the improbable
"Kia has done the improbable with the Sedona," said Jennifer Geiger, assistant managing editor at Cars.com. "It brings the style with a bold, studded grille and brawny sculpted face. You will almost look cool driving this minivan."
Beyond that, the Sedona – tricked out to a $44,000 sticker price – was cited for a strong drivetrain and a quiet ride. Another standout feature, according to the judges, is Kia's optional second row lounge seats.
As for the rest of the minivans, judges liked the Toyota Sienna's tech ergonomics and ample cargo room, the Honda Odyssey's seats and cool features, the Grand Caravan's value, and the Town & Country's acceleration.
---