---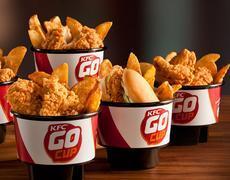 Given how common it is for American drivers to "eat on the go," we must admit that KFC's latest product offering is pretty brilliant: the KFC Go Cup, a container designed to fit in a standard car cup holder and hold foods that can be eaten with one hand while the other presumably stays on the steering wheel, or maybe texting.
Not that KFC is explicitly encouraging customers to engage in one-handed driving; instead, a Go Cup commercial shows GoCup contents being consumed by a rookie cop in a parked police car.
However, FoodBeast posted a KFC-generated infographic claiming that "42 percent of Americans would be more likely to eat in their cars if the food container could fit in their cup holder" (except, presumably, the 33 percent of American listed in the other KFC infographic who already use their cup holders to hold drinks. Though if their cars are outfitted with two cup holders per person, then drivers won't be forced to choose between eating a meal and drinking something to wash it down).
---