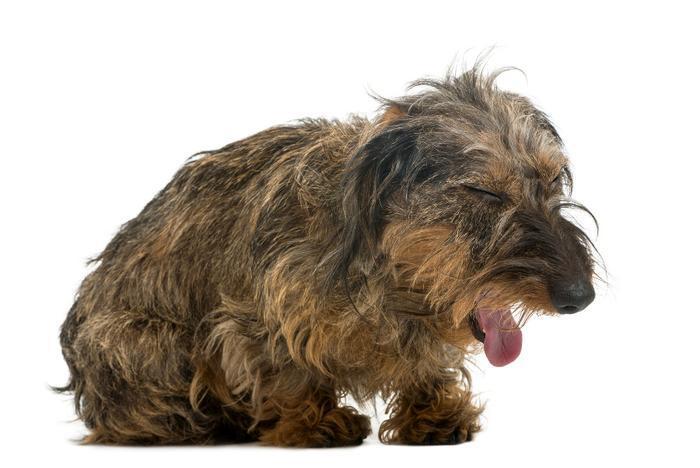 It's kennel cough season. Kennel cough is basically a cold that dogs get and it's spread just like human colds -- through the air and through direct contact with infected dogs.
Fortunately, there's a vaccine. Many consider it an elective but if you board your dog, take it to the dog park or have it in daycare, it's smart to get the vaccine.
The symptoms are the same as the common cold in humans – coughing, fever and lack of appetite but for dogs, kennel cough can be much more serious. If your dog is hacking away or constantly making noises that make it sound like he's choking on something, kennel cough may be the culprit.
The disease tends to spike as the seasons change so this is the time to be alert.
Kennel cough is often spread in enclosed areas with poor air circulation — while boarding in a kennel or an animal shelter, for example, or through direct contact while sitting in a vaccination clinic, training class or dog-grooming facility.
Kennel Cough itself can have multiple causes. One of the most common is a bacterium called Bordetella. Most dogs that become infected with Bordetella are infected with a virus at the same time.
If you suspect your dog may have it, you might want to have your vet see your pup.  In some cases, you may be advised to simply let kennel cough run its course and you can do the following:
Keep your dog at home and don't schedule any play dates;
A humidifier or vaporizer can help open up the wind pipe and make breathing easier;
Avoid cigarette smoke or other fumes;
Try using a harness instead of a collar to avoid choking and pulling on the throat; and
Make sure your dog is eating and drinking.
It should disappear after three weeks, but in puppies or older dogs it may last up to 6 weeks. In some cases, animals may remain infectious for long periods of time even after the symptoms have cleared up. So try and entertain your dog in your own surroundings.