---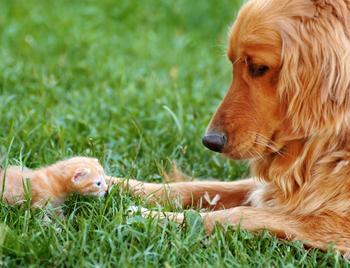 Independence Day is almost here, and soon people all over the United States will be attending barbecues, purchasing fireworks and showing their patriotism.
And although most people have heard safety tips when it comes to keeping themselves safe during the 4th, some don't think about the safety of their pets.
Eats and drinks
The Pennsylvania Veterinary Medical Association (PVMA) warns pet owners against leaving any alcoholic beverages around their pets at barbecues or parties.
If your pet even drinks a small amount of alcohol, depending on its size, it can quickly become weak, suffer respiratory failure, become poisoned and even fall into a coma in some cases.
In addition, the PVMA reminds owners to be mindful of leaving picnic food in places where their pet can get to it. Some foods -- including certain fruits and vegetables -- can be toxic for animals to eat.
The folks at DogHeirs.com say grapes, raisins, avocados, onions, garlic, chives and tomatoes are just some of the fruits and vegetables that can cause your dog problems if he consumes it.
And owners should make sure their cat won't be exposed to broccoli, chocolate, avocados, grapes, raisins, nuts, onions, plums, peaches or potatoes, just to name a few foods that cats should stay away from.
Keep the buffet table away from your pet and put it in a place where it can be accessed only by people. And be sure your guests aren't feeding foods to your pet.
You may want to make a friendly announcement to your guests and tell them they shouldn't be feeding anything to your pet whatsoever.
Chemical hazards
The ASPCA reminds owners to keep things like lighter fluid and matches away from their pets, since some matches are made with a chemical called chlorates, which can lead to kidney disease in some cases, breathing problems and damage to the blood cells.
And if your pet ingests lighter fluid, it can affect its central nervous system and cause depression. If it's inhaled, it could lead to breathing difficulties or pneumonia. Even if fluid gets on the skin of your pet, it can cause a bad irritation.
No fireworks for Fido
Obviously, fireworks are a big part of celebrating the 4th of July for a lot of people, but your pets shouldn't be included in those celebrations.
Experts say to leave your pet at home during fireworks displays, because the noise is just simply too much. And you should also keep your pet away when lighting your own fireworks at home. This will lower the chance of it getting burned, scared by the noise and exposed to toxic chemicals.
In addition, owners should keep an even closer eye on their pet on Independence Day.
Lost doggies
According to an infographic put together by PetAmberAlert.com, there's a 30 to 60% increase of lost pets between July 4 and July 6 every year, and only 14% of those pets are returned to their owners. Experts say the loud noise from fireworks can make pets run away in fear.
In addition, 30 to 60% of pets that are lost eventually get euthanized because they can't be identified and returned to their owner.
The folks at the Southeast Area Animal Control Authority, remind owners to be mindful of where they're placing their 4th of July decorations, since pets can easily mistake decorations for chew toys or things to play with.
Pets can become easily entangled in things like holiday ribbons, banners or streamers, so it's important to plan ahead.
Its best to keep those glow sticks that a lot of people use on the 4th away from your pets. And certainly don't put them on your pets.
A lot of glow sticks are made with toxic chemicals, so it's crucial to keep them completely out of reach.
And to help keep your pet calm from all the fireworks, crowds, music and other noise, experts say it's all about creating a good distraction.
Owners should keep their pets in a closed room that's kept cool, and provide them with the normal things they use, like chew toys and the sounds they usually hear around the house.
---