---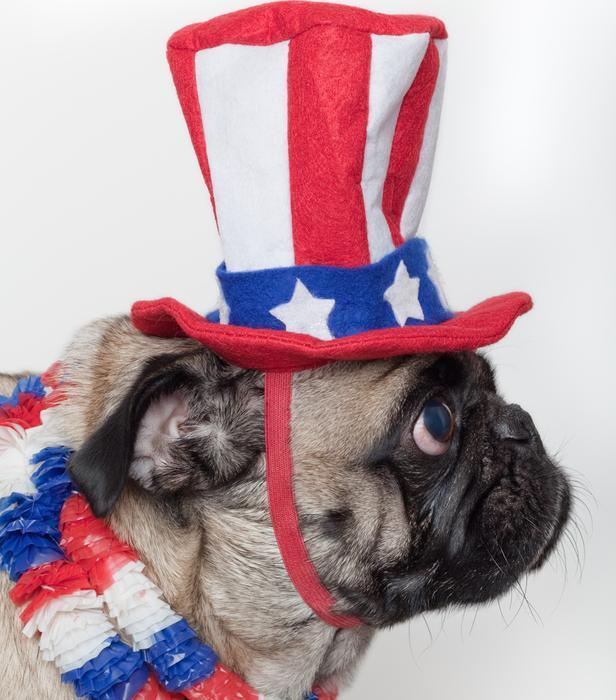 Nothing could be more American then parades, backyard barbecues and fireworks. We love watching the high school bands and all the floats as well as everything that comes with a parade -- the clowns that blow up balloons, kids tossing candy. It's a tradition!
It's always fun to make your dog part of all the excitement. Just remember -- the long time in the sun without any water in sight can be deadly for your dog. Heat stroke can pop up at anytime of the day and when the humidity is high it's so hard on a dog walking around with their feet on the pavement.
So keep a backpack with you so you can pull out a collapsible bowl of water or some kind of container to hold water. And watch out for the candy being thrown. Chocolate, especially dark chocolate, is not something a dog can tolerate.
Make sure your dog has his or her dog tags on for proper identification. It just takes one dog, cat, rabbit or kid with a nice big ice cream cone to lure your best friend out of its comfort zone to run away and get whatever strikes their fancy.
You might also want to have your pet microchipped as a precaution to make it easier for your pet to be returned home safely and promptly. Around the 4th of July there's often an upsurge in lost pets and strays so keep a watchful eye on your pet's whereabouts at all time.
Hold the beer
We love to share everything with our four-legged friends and a good steak or hot dog is understandable but don't do a beer. Actually don't do any alcohol -- it is deadly for your dog. If alcohol is ingested, your pet could become very intoxicated and weak, severely depressed or could go into a coma.
In severe instances death from respiratory failure caused by alcohol consumption can result. While at the picnic be careful of people who are kind and want to feed your pet scraps -- they can love your dog to death. Grapes, raisins, onions, even avocados are poison to your pet.
Fireworks are amazing but the loud booms are terrifying to all animals. The continuous loud sounds can cause some pets to cower, shiver, panic, escape or go in a destructive chewing rampage, so hide any special gifts that can't be replaced. Leaving your pet indoors (not leashed in the yard) on the 4th of July in a safe, secure, escape-proof room of the house with comfy bed, food and water is the safest option.
Keep the decorations out of the way as color is not the easiest to detect for your dog so a green glow stick can make your dog see red when he wants to play with it. Chewing on that can harm his intestinal tract. Keep sparklers and all little pieces of decorations out of your dog's reach.
Your 4th of July holiday will be a lot more fun without any booming expenses at the vets office.
---