---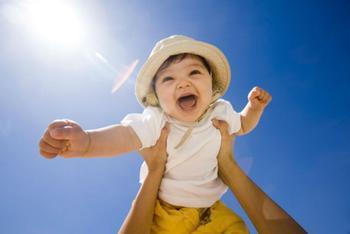 Summertime, with its abundance of opportunities to be outside, means you might soon find yourself stocking up on sunscreen. But not every member of the family should be slathered in sunscreen; infants require a different approach when it comes to sun protection, experts say.
Babies have thinner, more delicate skin that reacts differently to sunscreen. Namely, it absorbs the active, chemical ingredients in sunscreen more easily than older kids, which could increase the risk of allergic reaction or inflammation.
Ideally, babies should be kept away from direct sun exposure altogether if possible, explains Dr. Jay Joo, UCLA Health pediatrician. But if a midday trip to the beach with your little one is inevitable, certain guidelines should be followed.
Sun safety guidelines
In addition to avoiding direct sun exposure (especially during the hours of 10 AM to 2 PM), parents with babies younger than six months should follow these tips:
Cover up. Keep the baby's face and neck shaded using a wide-brimmed hat. Long sleeves and pants made of lightweight material can be used to cover up the rest of the baby's skin.
Use sunglasses. Sunglasses on a baby not only make for a great photo-op, they offer added sun protection (for infants who will tolerate wearing them).
Apply a test-patch of sunscreen. For the areas that can't be covered, such as the hands, a small amount of sunscreen is okay. But experts recommend first applying a small test-patch of sunscreen to make sure it doesn't irritate the baby's fresh, new skin.
For older babies. Parents of babies in the 6 to 12 month age range can apply a liberal amount of broad-spectrum sunscreen on all exposed skin, at least 15 minutes prior to sun exposure. Repeat sunscreen application every two hours or after they swim or sweat.
Soothing sunburn. In the event that a baby does get too much sun, a cool compress or aloe-based lotion can be applied.
---