---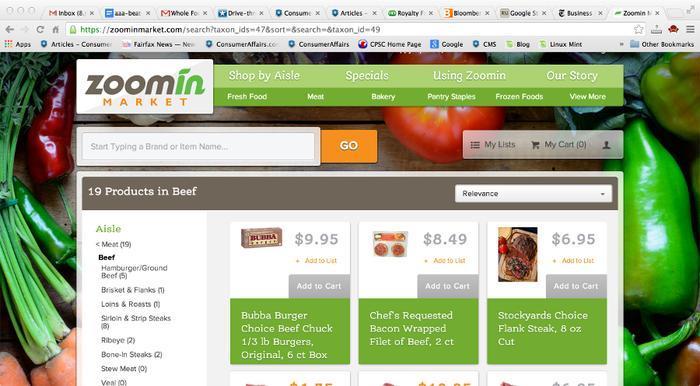 Everyone's trying to find the right formula for online grocery shopping. It's one thing to set up an attractive website with easy ordering options, but it's another matter to figure out how to get the stuff delivered to consumers.
Companies large and small have been trying a variety of approaches in selected cities.
Peapod, Amazon Fresh and Door to Door Organics deliver to your door. Relay Foods parks a truck in a convenient location several times a week. Harris Teeter has just started Express Lane Online, which lets you order online, then pull up to the curb of your local Harris Teeter and have the items loaded into your car.
The Harris Teeter approach sounds good to a new Kansas City venture called Zoomin. It's basically a drive-in supermarket, sort of a stripped-down version of the Harris Teeter approach. You place your order online, then drive over to Zoomin, where an employee helps you load up. Food is kept at the proper temperature until you arrive.
Unlike most of the others, Zoomin does not charge extra for its service and does not allow tipping its curbside helpers.
So far, there's only one Zoomin, in the Kansas City suburb of Olathe, and it's only been open a few weeks. But founder John Yerkes says he has his eye on two additional sites and, if the concept works locally, hopes to roll it out on a larger scale over the next few years.
Kansas City Star reporter Joyce Smith tried Zoomin recently and found it all worked as promised, even though she forgot to bring the print-out that contained the order number. She found the prices roughly comparable to other area markets.
Yerkes hopes his business model helps him keep prices competitive. He notes that, unlike home-delivery services, he doesn't need trucks and drivers. and unlike full-service supermarkets, he doesn't need display space and cashiers.
It's an interesting idea but will it catch on? Yerkes told Smith that it seems to resonate with shoppers who are hard-pressed to pack everything into their day.
---