---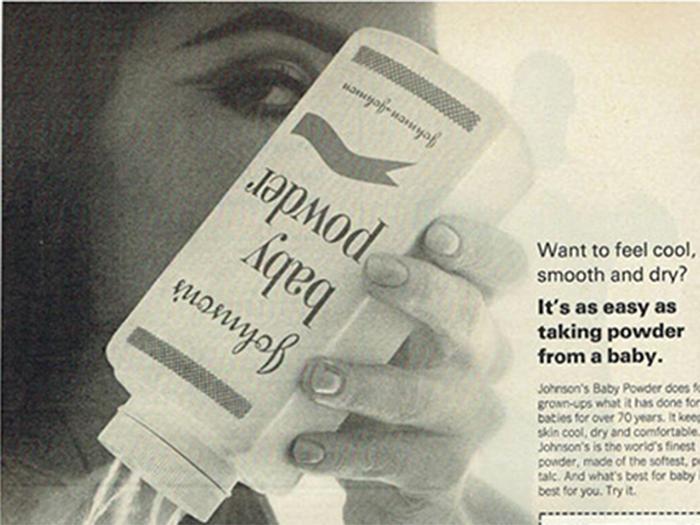 Concerns that women were unknowingly placing themselves in danger by using baby powder for feminine hygeine date back to 1971, when gynecological researchers first documented finding talc particles in ovarian tumors.
Nine years later, in 1982, researchers made the first connection between ovarian cancer and talcum powder, finding in a control group of 215 women with ovarian cancer that ninety-two, or 42.8% of the women with cancer in the study, "regularly used talc either as a dusting powder on the perineum or on sanitary napkins compared with 61 (28.4%) controls."
Since that landmark study, "dozens more followed confirming the association," says a new study evaluating the possible link, headed by Harvard researcher Dr. Daniel Cramer, who also published the 1982 study. His more recent research, published in May 2016, again associates genital use of talc with an increased risk of ovarian cancer.
Did companies know of the risk?
In recent years, lawsuits against Johnson & Johnson over its marketing of baby powder have piled up, with an estimated 1,200 claims pending.
Plaintiffs like Deborah Giannecchini, who has Stage 4 ovarian cancer, say in court testimony that the company should have warned women not to use the product on their genitals. Instead, however, the company marketed baby powder to adult women, the lawsuits contend.
One old print advertisement tells "grown-ups" that baby powder will make them feel "cool, smooth and dry."
On October 27, Giannecchini's lawsuit against Johnson & Johnson ended in her favor, with the jury finding against the company and delivering a whopping $70 million verdict.
In closing arguments, Giannecchini's attorney reportedly told the jurors that Johnson & Johnson executives had known about the link between talc use and ovarian cancer for years but falsified medical records to cover it up. Cramer, the Harvard researcher, has also testified in lawsuits that he had warned J&J; since 1982 to place a warning label on their baby powder, to no avail. Johnson & Johnson has said they will appeal the verdict.
Three major verdicts In 2016
The Giannecchini verdict follows a $72 million verdict a St. Louis jury slammed Johnson & Johnson with last March and a $55 million verdict against Johnson & Johnson that a South Dakota jury made in May. "It was really clear they were hiding something," the foreman of the St. Louis jury told Bloomberg News.
J&J; denies cancer link
Johnson & Johnson continues to insist there is no link between the use of talcum powder for feminine hygiene and ovarian cancer.
Asked why they didn't consider the research dating back to 1971, Johnson & Johnson spokeswoman Carol Goodrich directed ConsumerAffairs to FactsAboutTalc.com, a website created by Johnson & Johnson. "The science is all there on the website," Goodrich said.
Thanks
Keep an eye on your inbox, the lastest consumer news is on it's way!
Unsubscribe easily whenever you want
---