---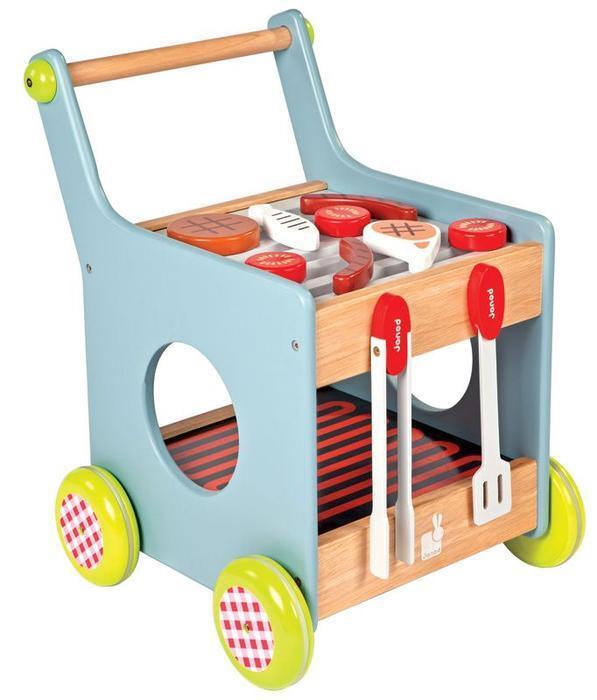 Juratoys U.S. of Fairfield, N.J., is recalling about 10,300 Bricolo by Janod Push toy trolleys sold in the U.S. and Canada.
The toy trolleys can tip backwards, posing an impact injury hazard to children.
The company has received two reports of trolleys falling backwards, both resulting in ER visits. One involved a tooth extraction the other a laceration to the child's nose.
This recall involves four Bricolo by Janod-push toy trolleys. The French Cocotte Cooker trolley is red with orange wheels and includes a cooktop with fried egg shapes, an oven and eight accessories, including pots and pans "Janod" printed on the side and front of the trolley and J06544 printed on the base of the toy.
The DIY-Magnetic trolley is gray and black with red wheels with work station and tools. "Bricolo" is printed on the front of the DIY-Magnetic trolley and J06505 is printed on the base of the toy.
The Redmaster-Magnetic DIY trolley is black and gray with red wheels and 21 accessories, including three magnetic tools and a set of gears. J06493 is printed on the base of the toy.
The Barbecue trolley is brightly colored and comes with a magnetic spatula, magnetic barbecue fork, one piece of pork, two sausages, one fish, one piece of beef, and three tomatoes. J06523 is printed on the base of the toy. The trolleys measure approximately 17 inches tall and have a 1 foot by 1 foot base.
Item Number

Description

Years Sold

J06493

Janod Redmaster –Magnetic DIY Trolley

2015–2017

 

J06505

Janod DIY – Magnetic Trolley

2014–2017

J06544

Janod French Cocotte Cooker Trolley

2015–2017

J06523

 

Janod Barbecue Trolley

2012–2014
The trolleys, manufactured in China, were sold at various toy stores nationwide including Giggle and Saks Fifth Avenue, and online at Zulily.com from September 2012, to March 2017, for about $100. The Janod Barbecue trolley sold for about $70.
What to do
Consumers should immediately stop using the recalled trolleys and keep them out of the reach of young children until they have installed a repair kit. Contact Juratoys for a free repair kit that includes instructions, tools, and footers to prevent the toy from tipping backwards.
Consumers may contact Juratoys toll free at 877-277-1663 from 8:30 a.m. to 5 p.m. ET Monday through Friday, or online at www.janod.com and click on "Product Recall" under the "Janod Express" tab at the top of the page for more information.
---