---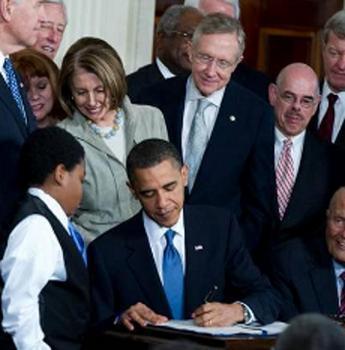 A political battle between Republicans in Congress and the White House could cost low-income Americans who rely on the subsidized coverage provided by Obamacare.
A federal judge ruled today that the Obama Administration has been improperly spending money to support the subsidy program. That's because Congress authorized the program but allegedly didn't appropriate any funds to finance it.
"Congress is the only source for such an appropriation, and no public money can be spent without one," wrote U.S. District Court Judge Rosemary M. Collyer, a George W. Bush appointee, who had earlier heard arguments in an unusual lawsuit brought by the House of Representatives against the White House.
The program, which helps consumers pay out-of-pocket healthcare costs like co-pays, will continue, pending an appeal.
Political feud
Former House Speaker John Boehner filed the lawsuit two years ago, portraying it as a check on the Administration's authority to act without Congressional consent.
"This is not the first time that we've seen opponents of the Affordable Care Act go through the motions to try to win this political fight in the court system," White House press secretary Josh Earnest said.
When he filed the House v. Burwell lawsuit two years ago, former House Speaker John Boehner framed it as a check on the executive branch's ability to change legislation once it was approved by Congress.
Several million Americans are receiving the subsidy. It's estimated that if the subsidies are eliminated, Obamacare premiums would rise as much as 30 percent to make up for the loss of funding.
The lawsuit is the latest challenge by Republicans to the Affordable Care Act. It is thought to be the first lawsuit ever filed by Congress against the White House in a dispute over how to interpret a statute.
---