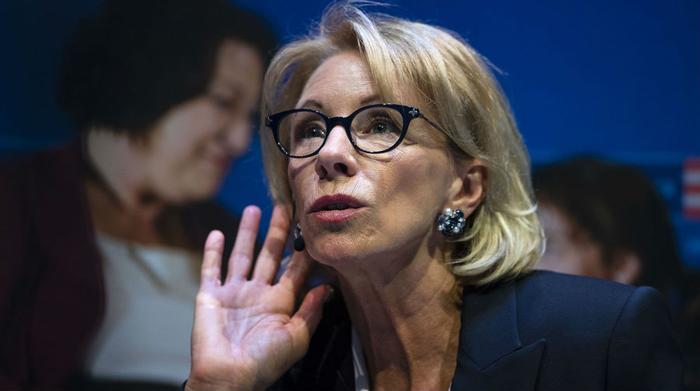 The long-delayed Student Loan Borrower Defense Rule took effect at noon Tuesday after a federal judge refused to block it while for-profit schools challenged it in court.
The Department of Education, which had sided with for-profit schools by halting the Obama-era rule from taking effect. The Education Department said it would not seek a further delay.
The rule was adopted to protect students who claimed to have been defrauded by for-profit colleges. Among its provisions, it prohibits schools that receive federal funds from relying on forced arbitration clauses and from banning class-action lawsuits.
It establishes a process for students whose schools are found to have engaged in fraud to be freed from their loan obligations. It requires the automatic discharge of loans for students who cannot complete their education because their school shuts down.
Government accused of acting improperly
Attorneys general from 18 states and the District of Columbia sued Education Secretary Betsy DeVos shortly after she blocked implementation of the rule last year. A federal judge sided with the plaintiffs, ruling that DeVos acted improperly.
"This is our latest victory in court against Betsy DeVos and her efforts to scrap these critical protections for students," said Massachusetts Attorney General Maura Healey, one of the plaintiffs. "This is a win for thousands of students across the country who were cheated by predatory for-profit schools. With this rule now in place, the U.S. Department of Education can no longer delay giving students and families the relief they deserve."
Healey says the rule puts important protections in place immediately, including nearly $381 million in automatic loan discharges for students whose schools closed on or after November 1, 2013, before they could complete their degrees and who did not re-enroll in another school within three years.
Another immediate effect of the rule is for-profit schools that take federal funds cannot force students into arbitration proceedings.
'Win for borrowers'
"Today's decision is a huge win for defrauded borrowers around the country," said Julie Murray, a Public Citizen attorney representing the student plaintiffs in the suit. "The rule is finally in effect. No more excuses. No more delays. Industry will continue to challenge the rule in court, but we will work as long as it takes to defeat those corporate interests and an administration beholden to them."
The rule was adopted in the bank of the Corinthian College bankruptcy and closing, which left thousands of students with student loan debt but no degree. The Obama administration charged Corinthian had defrauded the government and consumers by providing inadequate career training and falsifying job placement data.