---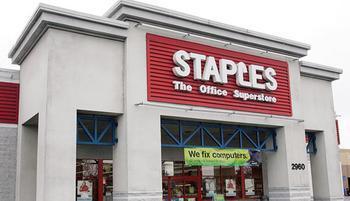 The proposed merger between Staples and Office Depot is officially off. The companies abandoned their effort to join forces after a federal judge granted the Federal Trade Commission's (FTC) request for a preliminary injunction to halt the acquisition.
The FTC went to court to block the union, charging further consolidation of the retail office supply market would hurt consumers.
"We are extremely disappointed that the FTC's request for preliminary injunction was granted despite the fact that it failed to define the relevant market correctly, and fell woefully short of proving its case," said Ron Sargent, Staples' chairman and chief executive officer. "We believe that it is in the best interest of our shareholders, customers, and associates to forego appealing this decision, terminate the merger agreement, and move on with our strategic plan to drive shareholder value."
The defeat will be costly. Staples will have to pay Office Depot a break-up fee of $250 million. Staples has also pulled the plug on plans to sell more than $550 million in assets, which was designed to appease government regulators.
Staples' attempt to acquire its competitor has been a long-playing drama. Back in December the FTC rejected the proposed merger, saying it would oppose it in court should the two parties not voluntarily withdraw it.
Extended merger agreement
In January Staples and Office Depot waived their merger agreement termination date and extended it to May 16, giving the government's lawsuit time to be resolved. The judge's ruling in favor the the FTC effectively shuts the door on the two companies' merger plans.
Staples, which says it is focused on the serving the needs of businesses with up to 200 employees, said it will seek other avenues that will allow it to diversify. It said it is increasing its offering of products and services beyond office supplies.
It will also try to make inroads in core categories like office supplies, ink, toner, and paper. To improve its competitive position, the company said it would invest in lower prices and improved supply chain capabilities and add personnel to its mid-market sales force.
Staples attempted to acquire Office Depot in 1997, meeting a similar fate at the hands of government regulators. It said it believed it could be successful this time, claiming the office supply business had become more competitive.
---