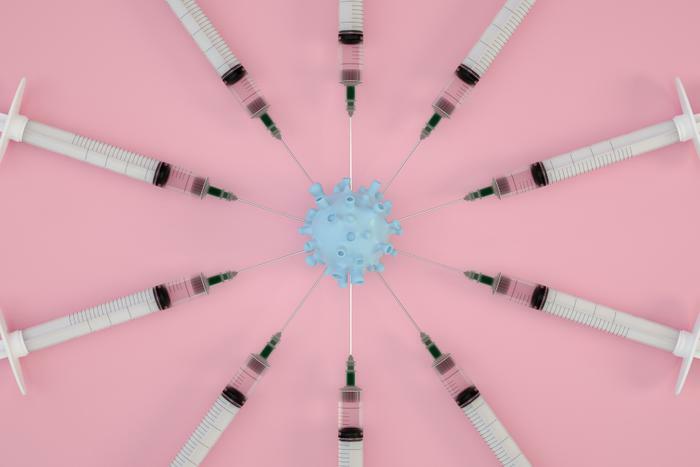 People who got the Johnson & Johnson single-shot vaccination against COVID-19 may need to get a booster shot to be protected from the Delta variant, according to a new study.
Researchers at New York University have completed a study that found the antibody response produced by one dose of the Johnson & Johnson vaccine to be significantly less than the protection provided by the Pfizer and Moderna vaccines, which use mRNA technology.
An overwhelming number of Americans have been inoculated with those mRNA vaccines. Only 13 million people in the U.S. have taken the Johnson & Johnson vaccine.
"The message that we wanted to give was not that people shouldn't get the J.&J. vaccine, but we hope that in the future, it will be boosted with either another dose of J.&J. or a boost with Pfizer or Moderna," Nathaniel Landau, a virologist at New York University's Grossman School of Medicine who led the study, told New York Times.
Protecting people from the Delta variant is a top concern for U.S. health officials. The mutated form of the virus is spreading quickly in the U.S., and it's believed to be responsible for 83% of new cases.
While all the approved vaccines reportedly provide some level of protection against the Delta variant, all have been shown to limit the severity of symptoms of those vaccinated individuals who become infected in so-called "breakthrough" cases.
"The data underscore the importance of surveillance for breakthrough infections that result in severe COVID-19 and suggest the benefit of a second immunization following Ad26.COV2.S to increase protection against the variants," the authors wrote.
Stands by previous research
In a statement to the media, Johnson & Johnson said it stands by its own previous study that showed its vaccine was 85% effective "at protecting against severe disease and provided complete protection against hospitalization and death." 
The company also said the NYU study, which has not been peer-reviewed, did not go deeply into the full nature of the immune protection that vaccines provide. 
With the pace of vaccinations steadily falling in the U.S., people who received the Johnson & Johnson vaccine should have no trouble finding available vaccine doses for a booster shot. However, that may be premature.
The U.S. Food and Drug Administration (FDA) would have to give the green light for booster shots, and it's unlikely to do so before the NYU study is published and peer-reviewed.