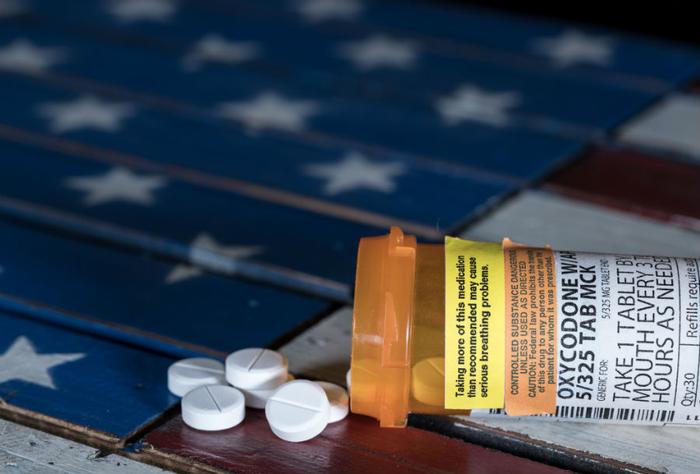 A judge in Oklahoma has ruled in favor of the state and against Johnson & Johnson, finding that the drugmaker bears responsibility in part for Oklahoma's opioid addiction crisis.
But Judge Thad Balkman handed the pharmaceutical giant a major victory, ordering it to pay the state $572 million instead of the $17 billion the state asked for. Wall Street hailed the decision, and Johnson & Johnson stock shot higher in after-hours trading Monday.
Balkman ruled that the state "met its burden" in showing Johnson & Johnson, through its subsidiary Janssen, carried out a misleading marketing and promotion campaign for opioid painkillers and that it stood up to the law's definition of "creating a public nuisance."
"Specifically, defendants caused an opioid crisis that's evidenced by increased rates of addiction, overdose deaths, and neonatal abstinence syndrome," the judge wrote.
The state had asked for a $17 billion judgment to cover 30 years of efforts to combat the problem. However, the judge ruled the state did not present sufficient evidence to show that the abatement effort would take that long. The $572 million judgment represents one year of an anti-opioid campaign.
While Wall Street seems happy with the verdict Johnson & Johnson clearly is not. The company described the ruling as "flawed" and said it plans to appeal.
Company statement
"Janssen did not cause the opioid crisis in Oklahoma, and neither the facts nor the law support this outcome," Johnson & Johnson general counsel Michael Ullmann said in a statement. "We recognize the opioid crisis is a tremendously complex public health issue and we have deep sympathy for everyone affected. We are working with partners to find ways to help those in need."
The judge was swayed by the state's claims that Johnson & Johnson systematically downplayed the risks of opioid addiction. It allegedly identified doctors known to prescribe large amounts of the drug as key customers.
In March, Purdue Pharma settled with the state of Oklahoma rather than go to trial on similar charges. The company agreed to pay the state $270 million to fund addiction research and treatment in the state.