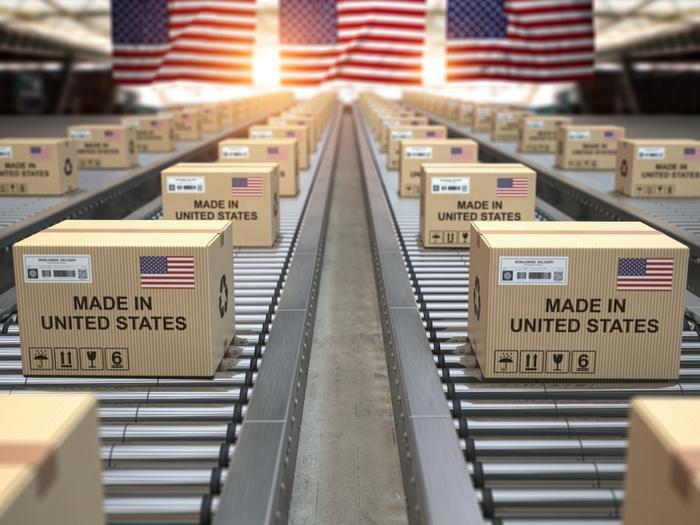 Presumptive Democratic presidential nominee Joe Biden went right at the American economy's jugular on Thursday, floating an idea for a $700 billion dollar "Made in America" package. The politician said the initiative is designed to "mobilize the talent, grit, and innovation of the American people and the full power of the federal government to bolster American industrial and technological strength and ensure the future is 'made in all of America' by all of America's workers."
That's a mouthful -- and a herculean task -- but Biden went "old school" in his idea by reminding voters and consumers that the U.S. was the "arsenal" of Democracy in World War II and that the nation has the vitality to do it again.
The presumptive Democratic presidential candidate says he doesn't buy into the defeatist thinking that automation and globalization will put the U.S. in a losing position long-term.
"As we build the American economy back better, Biden will put Americans to work making critical products, from medical equipment and supplies to semiconductors and communications technology, here in the United States," his plan promised, taking the Trump administration hostage for ignoring warnings about U.S. medical supply chain vulnerabilities and cutting taxes for companies that move their plants overseas.
Biden's plan
Biden's economy-boosting plan has six points: Buy American, Make It in America, Innovate in America, Invest in All of America, Stand Up for America, and Supply America. Two of those points in particular come with some serious investment. 
In his "Buy American" pitch, Biden says he wants to make a $400 billion "procurement investment" focused on improving clean energy and a related infrastructure plan designed to power new demand for American products, materials, and services. If his total procurement investment dream was guaranteed to become a reality, he said he also wants to ensure that those products are shipped overseas on U.S.-flagged cargo carriers.
Biden's other big-money play is a $300 billion investment in research and development toward "breakthrough technologies." He pinpoints two game-changers that could have a significant impact on consumers: electrical vehicle technology and 5G internet/phone service. Also in his $300 billion plan is provision that would move workers toward high-quality jobs in high-value manufacturing and technology.
The impact on the consumer 
ConsumerAffairs reached out to Matt Klink, owner of Los Angeles-based political consulting firm Klink Campaigns, for his opinion on Biden's pitch from a consumer's point of view.
"Evaluating Joe Biden's 'Buy American' plan in a vacuum, it's a great plan for the American consumer that will hopefully encourage and incentivize more American companies with a global footprint to return work to our shores," Klink told ConsumerAffairs.
"However, the plan can't be evaluated without looking at the Vice President's other proposals that would raise the cost of energy, increase the price of gasoline, ramp up regulation -- the costs of which businesses, large and small, will pass on directly to the consumer. A Biden presidency would ensure consumers pay higher costs for goods and services, slightly more of which would be made in America."