---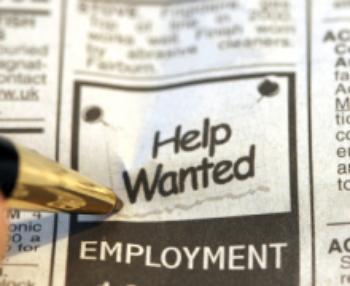 The nation's unemployment rate was unchanged at 7.8 percent in December as the U.S. economy added 155,000 payroll jobs, according to the U.S. Labor Department. The performance was in line with expectations.
The economy added jobs in health care, food services and drinking places, construction and manufacturing. The number of people without jobs -- 12.2 million -- has been virtually the same since September.
Among the major demographic groups, the unemployment rates for adult women and blacks edged up in December, while the jobless rates for adult men, teenagers, whites and Hispanics showed little or no change.
New normal?
There was also little change among the long-term unemployed, those who have been out of work 27 weeks or more. In nearly every category, the numbers showed little change, leading some analysts to suggest things have settled into a new normal.
In fact, for 2012 as a whole things were pretty stable. Employment growth averaged 153,000 per month, the same as the average monthly gain for 2011.
In December, employment in food services and drinking places rose by 38,000. In 2012, the industry added an average of 24,000 jobs a month, essentially the same as in 2011.
Healthcare added 45,000 jobs in December, with ambulatory health services accounting for just over half the new jobs. Hospitals added 12,000 jobs and nursing care facilities hired 10,000 employees.
Home-building boosts employment
Construction added 30,000 jobs in December, led by employment increases in construction of buildings and in residential specialty trade contractors.
Manufacturing added only 25,000 jobs in December. Its tally for the year was 180,000, with most of that occurring in the first three months.
Looking at additional data, economist Joel Naroff, of Naroff Economic Advisors, in Holland, Pa., said manufacturing has been surprisingly resilient.
Could be worse
"With all the worries that the fiscal cliff could be breached and consumers slowing their spending, it was assumed the downdraft in the industrial portion of the economy would continue and possibly accelerate," Naroff said. "That did not happen in December. Instead, activity increased. That is not to say conditions are strong."
Employment in major industries, including mining and logging, transportation and warehousing, financial activities, professional and businesses services and government, showed little change over the month.
In December, the average workweek got a little longer, expanding to 34.5 hours. Employees' average hourly earnings rose by 7 cents to $23.73, the report noted. During 2012 average hourly earnings have risen by 2.1 percent.
---