---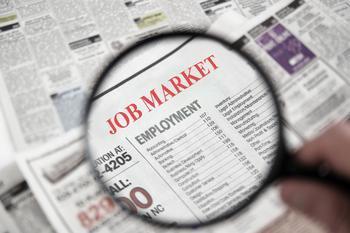 The number of jobs up for grabs inched lower during February.
Figures released by the Bureau of Labor Statistics (BLS) show there were 5.4 million job openings at the end of the month, compared with 5.5 million the month before.
Hires, meanwhile, were up to 5.4 million from 5.0 million in January, and separations rose by 200,000 -- to 5.1 million.
Job openings
The job openings rate February was about the same as a month earlier -- 3.7%. Openings rose in educational services (+48,000) and federal government (+19,000), but fell in health care and social assistance (-147,000), finance and insurance (-54,000), and mining and logging (-8,000). The number of job openings was lower down in the Midwest region.
Hires
The addition of 297,000 hires in February was the highest level since November 2006, putting the hires rate at 3.8%. Hires increased for total private (+278,000) and were little changed for government.
Retail trade added 102,000 positions followed by accommodation and food services (+78,000), educational services (+44,000), and state and local government -- excluding education (+25,000). Hires declined in mining and logging (-9,000). Hires increased in the South.
Separations
Total separations includes quits, layoffs and discharges, and other separations, and is referred to as turnover. The total separations rate in February was 3.5% with little change for total private and government.
Separations were up in accommodation and food services (+98,000), while arts, entertainment, and recreation edged lower (-31,000). The number of total separations was little changed over the month in all regions.
Employment net change
Over the 12 months ending in February, hires totaled 62.1 million and separations totaled 59.4 million, for a net employment gain of 2.7 million. This includes workers who may have been hired and separated more than once during the year.
The full report may be found on the BLS website.
---