---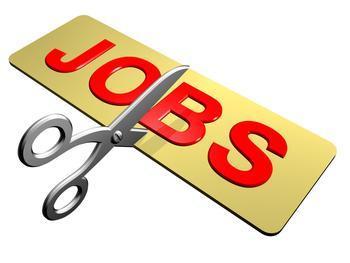 Employers continue to thin the ranks of their workforce with news they planned to cut 55,356 payroll positions in February. That's a jump of 37% from January's total of 40,430 and the second month in a row that cuts have increased.
Outplacement consultancy Challenger, Gray & Christmas, which puts out the monthly tally, notes that the February total was 7% higher than the 51,728 job cuts announced the same month a year ago and the highest since last November, when 57,081 workers were let go.
Employers have now announced 95,786 job cuts so far this year -- down 9% from the first two months of 2012.
Financial sector woes
The financial sector dominated job cuts last month, with firms announcing 21,724 planned layoffs, the most since 31,167 were announced in September 2011, and nearly three times more than the 7,611 job cuts announced by financial institutions in January. Employers in this sector have now announced 30,302 job cuts this year -- nearly 75 percent of the 41,008 financial job cuts announced in all of 2012.
Retailers announced another 2,279 job cuts in February, bringing the year-to-date total to 8,955 -- the second largest sector total behind financial. Retail job cuts are down 38 percent from a year ago, when these employers announced 14,516 layoffs in January and February.
The largest job-cut announcement of the month came from JP Morgan Chase, which reported plans to reduce its headcount by 19,000 positions over the next two years. On a positive note, a majority of the cuts are due to an improving housing market. The bank is trimming its mortgage unit, which had swelled in recent years to process the large number of troubled mortgages.
"Ideally, you want an improving economy to lead to job creation, but it is not unusual to see employers make reductions in some areas while simultaneously adding in others as changing economic conditions require them to shuffle workforce priorities," said John A. Challenger, chief executive officer of Challenger, Gray & Christmas.
Sequester effect
While the Chase layoffs are a sign of economic bright spots, the 3,000 job cuts planned by United Technologies Corp. this year, may foreshadow a surge in layoffs by aerospace and defense companies as the spending cuts forced by the sequester affect these and other employers.
"In addition to aerospace and defense, the sequester is likely to result in increased job cuts in the government, education and non-profit sectors, as well as private-sector industries that count the government among their biggest customers, such as technology, construction and transportation," said Challenger.
Sequester-related job cuts have yet to be announced, but several employers are already warning of impending workforce reductions. According to a report by cable news outlet CNN, the Federal Aviation Administration informed contractors that it will begin closing 168 contractor-staffed air traffic towers nationwide on April 1 and another 21 towers by September 30. The number of air traffic controllers impacted by the move has not been released, but one contractor operating 77 of the targeted towers told CNN that the closures could put more than 400 of its employees out of work.
Meanwhile, the Honolulu Star-Advertiser reported that BAE Systems, contracted by the Navy to repair ships in Hawaii, California, Virginia and Florida, sent a letter to its nationwide "ship repair team" warning that more than 3,500 production, management, and administrative staff may be laid off as a result of the sequestration.
"These are just the tip of the iceberg. Some are predicting that the sequester could lead to 750,000 job losses this year," said Challenger. "This will, of course, ripple through the economy, as 750,000 mostly middle-class and upper middle-class Americans are forced to postpone vacations, major purchases and other spending that boosts the economy."
---