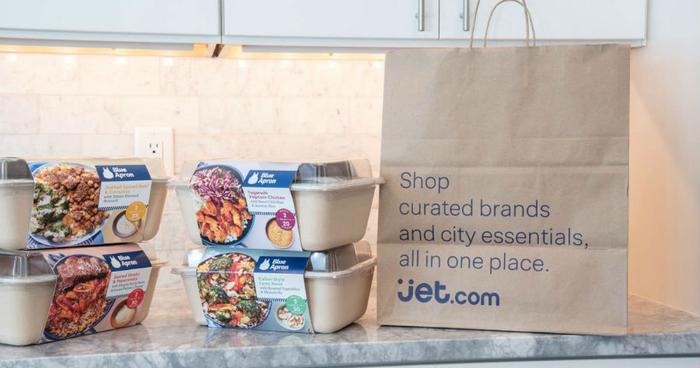 Walmart-owned Jet.com has teamed up with Blue Apron to start selling Blue Apron meal kits on its site, the companies announced on Monday. The new partnership could be a boon to Blue Apron, which has struggled to keep subscribers since going public last summer.  
Shoppers in the New York area will be able to choose from four different meal kits for same- or next-day delivery. The selection of meal offerings will be refreshed every six weeks.
To start, customers can choose from the following four meal-for-two options: seared steaks and peperonata with fregola sarda pasta and grana padano cheese for $22.99; Dukkah-spiced beef and couscous with tahini-dressed broccoli for $20.99; Togarashi popcorn chicken with sweet chili slaw and jasmine rice for $18.99; and Italian farro bowls with roasted vegetables and mozzarella $16.99.
"Teaming up with Jet enables us to dynamically serve the lifestyle of metropolitan consumers, who will now be able to conveniently fill up their online shopping carts with high quality Blue Apron meals that can be cooked in 30 minutes or less while shopping for other everyday needs," Brad Dickerson, Blue Apron CEO, said in a statement.
"This exciting launch is another step forward in our channel expansion strategy and reflects the strength of the capabilities we are developing to readily support a variety of opportunities to broaden our access to consumers."
Declining subscribers
Blue Apron's subscriber numbers have been dwindling ever since the company went public in June 2017. The company had more than one million subscribers before it went public, but it has had a hard time retaining them. In August, Blue Apron disclosed that it had 717,000 customers -- a 9 percent decrease from the first quarter.
Through the new partnership, Jet's customers won't have to subscribe to Blue Apron's service in order to make the meals part of their regular grocery order.
The company's stock has tumbled more than 70 percent so far this year. News of the partnership sent shares up more than 18 percent in Monday premarket trading.