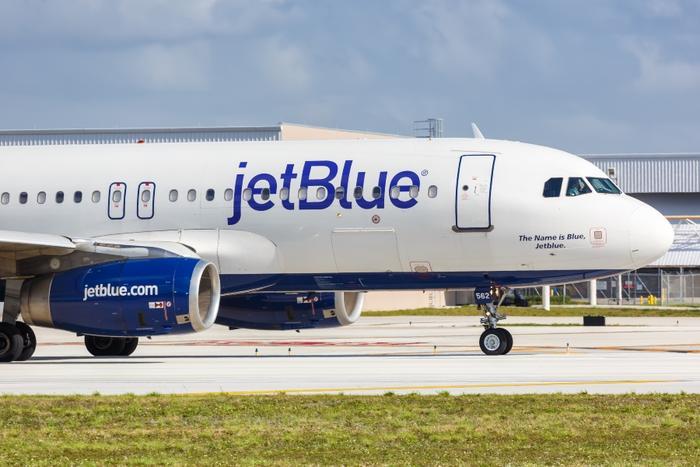 JetBlue and a pilots union have reached a deal to sidestep any involuntary furloughs until at least May 2021.
In a memo seen by CNBC, the Air Line Pilots Association (ALPA)'s JetBlue chapter signed off on a letter of agreement  that "protects all JetBlue pilots from involuntary furlough -- under any circumstances -- until May 1, 2021."
There's never a perfect time for a tete-a-tete with a union, especially with airlines trying to find their way out of the impact from the COVID-19 pandemic. Just two weeks ago, JetBlue said it was adding 30 new domestic routes to serve customers in markets where leisure and travel for visiting friends and relatives were showing some signs of strength. 
The essence of the deal
In the memo, the pilots' union and the airline shook hands on some "short-term changes" but added an asterisk on an "earlier snapback if demand for flying recovers." The memo also made the point that there aren't any planned changes to the collective bargaining agreement that governs pay rates or "significant modifications" to work rules.
"Airline pilots have been on the front lines of this public-health crisis and were part of the first wave of those directly impacted by the associated economic fallout," the union said in a statement to CNBC.
ConsumerAffairs reached out to JetBlue for comment but had not received any by press time.
Other airlines may face similar situations
In mid-April, U.S.-based airlines accepted billions in coronavirus aid in a bid to keep workers afloat with the intent of avoiding involuntary furloughs. The deadline for that promise will come September 30. It's like that a large number of layoffs will also occur at that time. 
American Airlines told employees earlier this week that it anticipates having 8,000 more flight attendants than it needs come fall -- almost a third of its 2019 levels.
Delta Air Lines also warned its pilots about possible furloughs and urged any pilot eligible to take an early retirement package to give it serious consideration.