---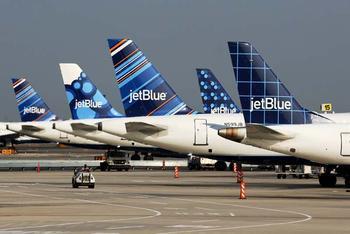 JetBlue is offering to cover the cost of enrolling in TSA Precheck for its most-frequent fliers, in an effort to reduce wait times at airport security checkpoints. The offer applies to Mosaic TrueBlue members, the airline's highest frequent flier tier.
"Reducing time and the complexity of the security checkpoint makes a big difference for travelers, especially those who are always on their way to catch a flight," said Scott Resnick, director, loyalty marketing, JetBlue. "[B]y helping the TSA facilitate more fliers in the TSA Precheck lane, we can also speed up the security for all customers."
The limited-time offer comes as the Department of Homeland Security warns that it will be stepping up security over the July 4th holiday, in response to the terrorist attack at the Istanbul airport that killed 42 people in Turkey.
Extra patrols have been deployed at several major U.S. airports this week, while the TSA has already increased the number of bomb-sniffing dog teams in the wake of the Brussels airport terrorist attack in March.
Shoes on
TSA Precheck helps travelers move efficiently though security by leaving their shoes, belt and light outerwear on, and in most cases keeping their laptop computers and 3-1-1 compliant liquids and gels in their carry-on bag.
TrueBlue members with Mosaic status who currently do not have a Known Traveler Number listed in their loyalty program profile will receive an email from JetBlue by July 1 with a special promotional award code that can be redeemed for a TSA Precheck voucher.
The offer is valid for TrueBlue members who earned Mosaic status before June 30, 2016 and codes are valid for redemption through September 30, 2016, the airline said.
---