---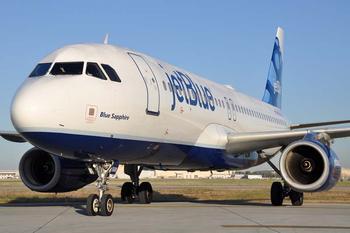 JetBlue is starting six daily flights between New York's LaGuardia Airport and Boston's Logan International, it announced today. Delta and American currently dominate the busy route.
"Increased competition in the congested New York market opens the door to better service and lower fares for our hometown New York customers," said Robin Hayes, president and chief executive officer, JetBlue.
The new LaGuardia–Boston Logan route, which starts Oct. 31, 2016, is part of JetBlue's plan to reach 150 daily flights in Boston, where it currently is the top airline in both flights per day and destinations served. JetBlue ranks fifth at LaGuardia.
Besides the New York-Boston route, JetBlue will shift two daily frequencies to Fort Lauderdale, and one each to Orlando, Tampa, Palm Beach, and Fort Myers. The carrier will operate up to 30 daily flights out of Newark starting on October 30.
Flights between Logan and LaGuardia will be operated on JetBlue's Embraer 190 aircraft, which the airline said features the most legroom in coach and "spacious two-by-two seating."
Amenities will include live TV, SiriusXM radio, and free snacks and soft drinks, as well as free broadband.
Popcorn on United
Not to be outdone, United says it will offer Garrett Popcorn's Garrett Mix, a gooey caramel and cheese mixture that is popular in Chicago, United's base. Whether it will cause passengers elsewhere to salivate isn't clear.
The goopy mixture won't be free. It will go for $3.99 and will be available starting May 1 on all flights longer than two hours. 
United said it will also be offering Illy coffee -- an Italian blend -- on all flights beginning May 1.
---