---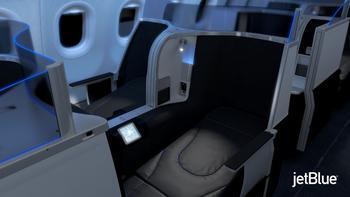 JetBlue is adding its version of business class to its transcontinental flights next year. Besides lie-flat seats, the budget carrier will be offering "single suite seats" with doors that close for added privacy.
The new amenities will be available on Airbus A321 flights from New York to Los Angeles and San Francisco beginning the second quarter of 2014, the airline said today.
"Our customers have requested more premium options on our transcontinental flights and we listened," said JetBlue CEO Dave Barger. "We decided to enter the premium transcontinental market in a way that only JetBlue can: with an intense focus on offering the best possible product for the best possible price."
The new lie-flat seat will be displayed in a 2-1 configuration. Rows 1, 3 and 5 will offer 2-by-2 seating, and rows 2 and 4 will offer private suites, with one seat on each side of the aisle.
In addition, JetBlue said it will refresh its basic coach service with a comfortable seat design with movable headrests, a new entertainment system with up to 100 channels of DirecTV programming on 10.1-inch widescreens, and 110-volt and USB power ports accessible to all customers.
New lie-flat seats are expected to debut in the market on new Airbus A321 aircraft beginning in the second quarter of 2014 on the two most popular nonstop routes in the United States – New York to Los Angeles and New York to San Francisco. In addition, JetBlue will be the first and only airline in the market to offer customers the option of a completely separate single suite seat that includes a closable door for increased privacy.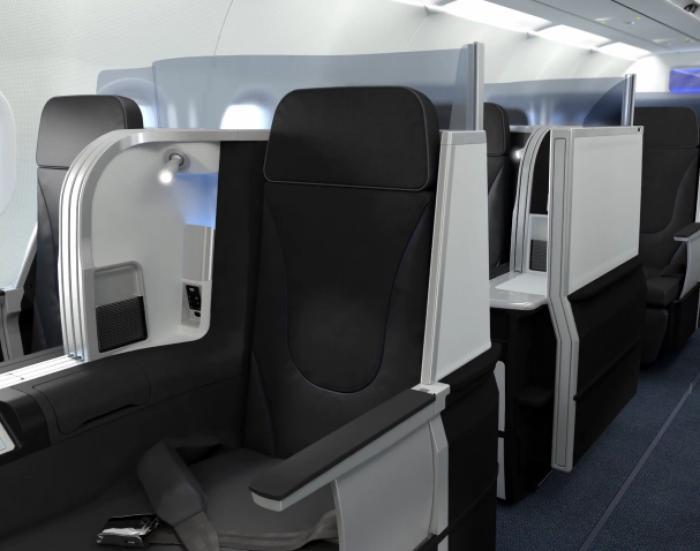 The new lie-flat seats also offer air cushions with adjustable firmness, a massage function, a 15-inch widescreen television and a unique "wake-me-for-service" indicator if the customer chooses to sleep in.
"Transcontinental routes have had high premium fares we believe we can beat," said Mr. Barger. "By offering our own, unique seats and enriched service elements that will include some soon-to-be-announced partnerships, we are creating a one-of-a-kind experience that will serve this market in a way only JetBlue can."
Barger said JetBlue's wholly owned subsidiary LiveTV will begin installing Fly-Fi on JetBlue's fleet by the end of the year, a new high-speed, satellite-based wi-fi product that will offer true broadband speeds and serve as the fastest internet access at altitude.
"We believe Fly-Fi will be a competitive advantage in the market for JetBlue," Mr. Barger said. "This is not the slow Wi-Fi you get on other airlines today. This will be connectivity at speeds you've come to expect on the ground."
JetBlue expects to increase frequencies on JFK-LAX and JFK-SFO with new Airbus A321 aircraft next year. There will be a dedicated sub-fleet of 11 aircraft initially used for the two core transcontinental routes. Additional markets are possible, based on customer response and demand for more service.
"We expect to invigorate the market with our competitive price," Mr. Barger said. "Building on our original strategy of serving the under-served with a unique product and service-focused culture, we believe this new product will be very popular with current coast-to-coast customers, and may motivate new customers to choose JetBlue."
---