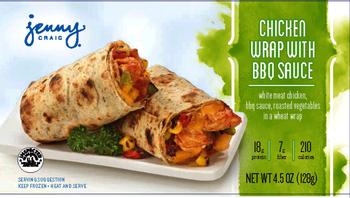 SK Food Group of Groveport, Ohio, and Reno, Nev., is recalling approximately 174,207 pounds of jenny Craig chicken wraps.
The products may be contaminated with Salmonella and Listeria monocytogenes.
There have been no confirmed reports of adverse reactions due to consumption of these products.
The following, frozen, fully cooked items, produced from October 15, 2017, through October 15, 2018, are being recalled:
• 4.5-oz. plastic packages containing "jenny CRAIG CHICKEN WRAP WITH BBQ SAUCE," with lot codes WO0096753S10, WO0097880S10, WO0098216S10, WO0098565S10, WO0098923S10, WO0100691S10, WO0100692S10, WO0101746S10, WO0101861S10, WO0102176S10, WO0102469S10, WO0102758S10, WO0103920S10, WO0104247S10, WO0104353S10, WO0104615S10, WO0104995S10, WO0106312, WO0106312S10, WO0106945S10, WO0107556S10, WO0108694S10, WO0108695S10, WO0096753S02, WO0097880S02, WO0098216S02, WO00982416S02, WO0098565S02, WO0098923S02, WO0100691S02, WO0100692S02 and WO0101746S02.
The recalled products, bearing establishment number "EST. 45367" or "EST. 20552" stamped on the product centerfold, were shipped directly to consumers through catalog sales in California, Colorado, Florida, Hawaii, Idaho, Illinois, Maryland, Michigan, North Carolina, Oregon, Pennsylvania and Texas.
What to do
Customers who purchased the recalled products should not consume them, but discard them or return them to the place of purchase.
Consumers with questions regarding the recall may contact Steve Sposari at (206) 957-6225.