---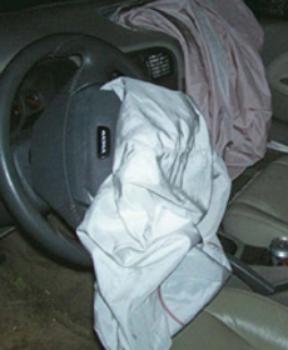 Four Japanese automakers are reportedly recalling more than 3 million vehicles to deal with problems involving airbags.
Honda says it's recalling approximately 426,000 model-year 2001-2003 Civic vehicles, 43,000 CR-V vehicles from the 2002-2003 model years and about 92,000 model-year 2002 Odyssey vehicles in the United States to replace the passenger front airbag inflator.
It's possible that the inflators in the vehicles may deploy with too much pressure, which may cause the inflator casing to rupture and could result in injury. Honda says there has been one crash in which a passenger front airbag deployed with too much pressure, causing the casing to rupture, but the company says it is not aware of any injuries or deaths related to the issue.
The company is encouraging owners of the affected vehicles to take them to an authorized dealer as soon as they receive the recall notification, which will be mailed to customers will begin in late May.
Owners will be able to determine if their vehicles require repair by going to www.recalls.honda.com or by calling (800) 999-1009, and selecting option 4.
Toyota
Toyota is recalling approximately 170,000 front passenger airbag inflators installed in several vehicle models.
The vehicles involved include certain Toyota Corolla, Corolla Matrix, Sequoia, and Tundra, and Lexus SC 430 models manufactured from 2001 – 2003. More precise vehicle information is being developed, but about 510,000 vehicles may have to be inspected to locate the suspect inflators.
Owners will receive an owner notification letter by first class mail. The remedy will involve inspection of the front passenger air bag, and, if it is equipped with an affected inflator, the inflator will be replaced with a newly manufactured one at no charge to the owner.
For more information customers should go to www.toyota.com/recall, or 1 800-331-4331, www.lexus.com/recall or 1 800-255-3987).
Nissan and Mazda
Two other companies -- Nissan and Mazda -- are also recalling models for the same reason but details have not yet been released by the companies.
The New York Times reports Nissan is recalling 480,000 vehicles and that 45,000 Mazdas are involved.
There has been no comment at this point from the latter two automakers.
---