---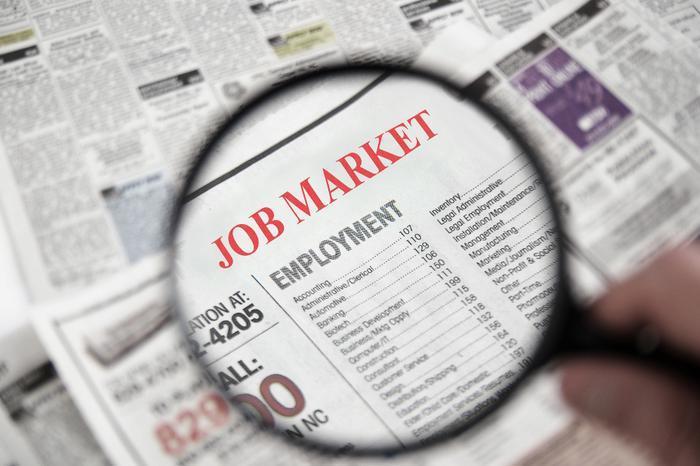 Another 151,000 people found work in January, well below the pace of December in which 262,000 jobs were created. That December figure, by the way, was revised down by 30,000 from the initial estimate. Economists at Briefing.com had projected the creation of 188,000 jobs.
In its report, the Department of Labor (DOL) also said the unemployment rate inched down 0.1% to 4.9%.
Job gains occurred in several industries, including retail trade (+58,000), food services and drinking places (+47,000), health care (+37,000), and manufacturing (+29,000). Employment declined in private educational services (-29,000), transportation and warehousing (-20,000), and mining (-7,000).
The number of people out of work was little changed at 7.8 million. Over the past 12 months, the number of unemployed persons and the unemployment rate were down by 1.1 million and 0.8%, respectively.
Who's working and who's not
Among the major worker groups, the unemployment rates for adult men (4.5%) and whites (4.3%) declined in January. The jobless rates for adult women (4.5%), teenagers (16.0%), blacks (8.8%), Asians (3.7%), and Hispanics (5.9%) showed little change over the month.
The number of long-term unemployed (those out of work for 27 weeks or more) was essentially unchanged in January, at 2.1 million, and has shown little movement since June. They account for 26.9% of the unemployed.
After accounting for the annual adjustments to the population controls, the civilian labor force and total employment, as measured by the household survey, were little changed in January. The labor force participation rate, at 62.7%, was little changed.
The employment-population ratio at 59.6% changed little over the month, but was up by 0.3% since October.
Average hourly earnings for all employees on private nonfarm payrolls increased by 12 cents last month to $25.39. Over the year, average hourly earnings have gone 2.5%. Average hourly earnings of private-sector production and nonsupervisory employees rose by 6 cents to $21.33.
The complete report is available on the DOL website.
Jobless claims
Speaking of jobs, the Bureau of Labor Statistics (BLS) reports initial applications for state unemployment benefits were up 8,000 in the week ending January 30, to a seasonally adjusted initial total of 285,000. That's the highest level in two weeks. The previous week's total was revised down by 1,000 to 277,000.
The four-week moving average, which strips out the volatility of the weekly number and is considered a more accurate gauge of the labor market, rose by 2,000 to 284,750.
The full report may be found on the BLS website.
---