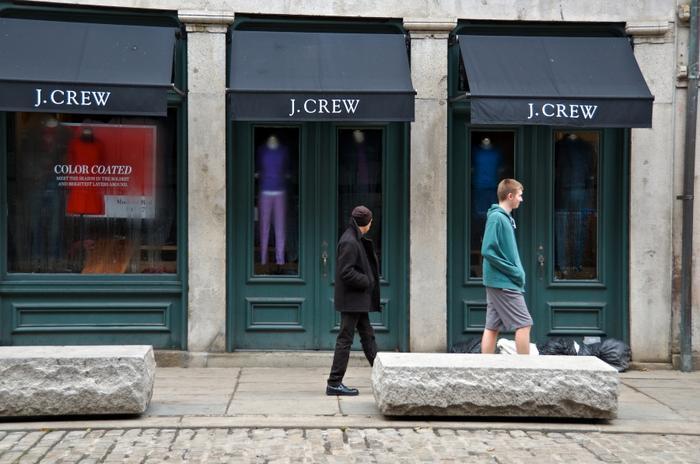 Is J. Crew's 37-year run about to end? That's a long shot, but the company found its future hanging in the balance on the heels of filing for bankruptcy protection on Monday.
Despite a hopeful first quarter, the specialty retailer was up to its neck in debt -- $1.65 billion, to be exact. And the temporary coronavirus-related closing of its 500-plus stores may have been too much to survive. To try and stop the bleeding, the company's lenders will convert that debt into equity.
"This agreement with our lenders represents a critical milestone in the ongoing process to transform our business with the goal of driving long-term, sustainable growth for J.Crew and further enhancing Madewell's (J. Crew's denim-inspired offshoot) growth momentum," said Jan Singer, Chief Executive Officer, J.Crew Group, in a statement.
"Throughout this process, we will continue to provide our customers with the exceptional merchandise and service they expect from us, and we will continue all day-to-day operations, albeit under these extraordinary COVID-19-related circumstances. As we look to reopen our stores as quickly and safely as possible, this comprehensive financial restructuring should enable our business and brands to thrive for years to come."
Still open for business
The word "bankruptcy" always sounds so daunting, but J. Crew wants its customers to know that all is good between the company and its customers, regardless of the situation.
In an open letter to its shoppers, J. Crew said right up front that "we are there for our customers and fully operational throughout this restructuring process."
"We will continue operating under the COVID response measures currently in place and look forward to reopening our stores in accordance with CDC guidance as quickly and safely as possible," the company wrote, then assured its customers that all customer programs, including J. Crew's loyalty programs, gift cards, returns, and exchanges, will continue "as usual."
If consumers have questions about particular J. Crew/Madewell products or services, the company has set up a FAQs page to answer those questions.