---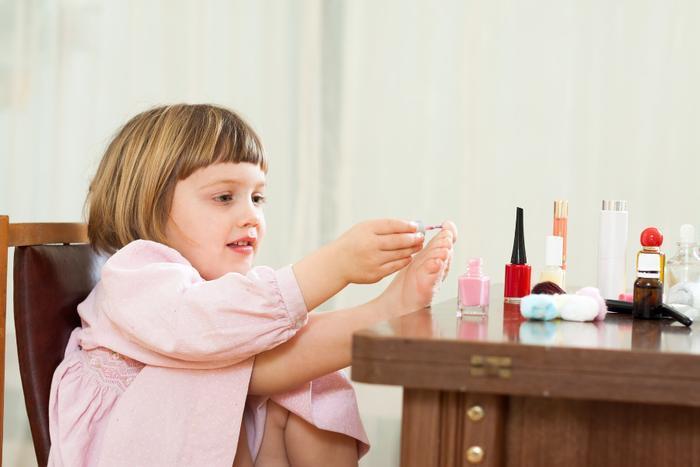 Your nail polish could be lowering your child's IQ. A recent study at Columbia University's Mailman School of Public Health has found that certain nail polishes, and other types of cosmetic and glue products, have the potential to lower IQs.
The study found that children exposed in utero to high concentrations of two specific phthalates had lower IQ scores at age 7. Phthalates are a group of chemicals used to make plastics more flexible and harder to break. They are often called plasticizers.
Phthalates are used in hundreds of products, such as vinyl flooring, adhesives, detergents, lubricating oils, automotive plastics, plastic clothes like raincoats, and personal-care products such as soaps, shampoos, hair sprays, and nail polishes.
Many times you will find them in children's toys if the toys were made before 2009, when new restrictions went into effect.
Endocrine disruptors
The speculation is that phthalates might act as endocrine disruptors to the mother's thyroid hormone, which is crucial in the development of a child's brain.
"These findings are important to inform policy makers of the potentially harmful effects of this class of chemicals," the authors wrote.
328 Dominican and African-American women, as well as their children, took part in this study. They were studied at the Columbia Center for Children's Environmental Health. The researchers measured levels of four phthalates in the mother's' urine when they were pregnant, and children were given IQ tests at age 7. Their IQ results were a few points lower.

The lead author was Pam Factor-Litvak, PhD, she is an associate professor of Epidemiology at the Mailman School. She explained that mothers who had concentrations of phthalates in the highest 25 percent ended up having kids with IQ scores up to six to eight points lower than kids of mothers who were in the lowest 25 percent of exposure to phthalates.
"That's actually a substantial effect," Factor-Litvak told Time Magazine. "Honestly, I think we were a bit surprised that the reduction was so large."
There is a bright side -- not all soft plastic contains phthalates. Most plastic wraps, water bottles, and food containers are phthalate-free.
What to do
The way we live today it would be pretty tough to avoid all products that have phthalates in them but you can do some things to be proactive.
You might go au natural instead of buying a fragrance. When you buy cosmetics, the word "fragrance" or "parfum" on a label almost always means phthalates. What you want to see are words that say "no synthetic fragrance" or "scented with only essential oils" or "phthalate-free."
Only use plastics that have recycling codes 1, 2, or 5 -- you can see the numbers on the bottom of the container.
Hand-me-down toys are great if they were purchased after 2009. Anything before that could be made with phthalates. Phthalates are now banned from children's toys, teethers, bottles, and feeding products. But not before 2009.
Don't ever microwave in plastic, always use glass. Even BPA- or phthalate-free plastic may contain harmful chemicals. Opt for glass food storage containers, and choose bottles and sippy and snack cups that are mostly stainless steel, silicone, or glass.
If you give up nail polish think of all the money you will be saving without getting your nails done. It's a win-win. You will have smarter kids as well!
---