---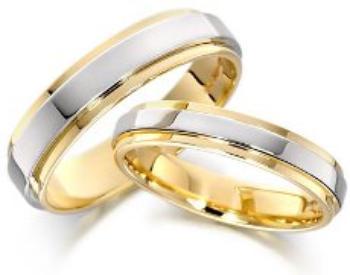 You've probably heard the nursery rhyme that goes "First comes love, then comes marriage, then comes baby in the baby carriage," which is a song that definitely gets points for being cute and succinct, but loses points for leaving out a major part of the relationship storyline.
The song should really go, "First comes love, then comes marriage, then comes debt"—because a lot of folks end up breaking the bank to pull off the wedding of their dreams and it's not just women who are steering the ship when it comes to the planning, as both genders do their parts to spend ridiculously on the ceremony, the reception and the rest of the things people feel they need to make a wedding day seem fairytale-like.
And since the start of the economic downturn a few years ago, elaborate weddings were just some of the things that people cut back on, but according to TheKnot.com and WeddingChannel.com, two popular wedding websites, people are starting to let go of their frugality and are planning bigger and more expensive weddings these days.
Both of the sites surveyed 17,500 brides who said "I do" in 2012, to gauge just how much they were spending on weddings compared to 2011. In addition, the survey revealed the most expensive U.S. marriage venues.
According to Carley Roney, co-founder of The Knot, wedding budgets and overall spending first started to increase back in 2011 and today people are starting to feel less guilty about shelling out the dough for their nuptials.
"In 2011, budgets increased for the first time since the economic downturn, and this past year, in 2012, we saw that wedding budgets are continuing to rise even more and to an all-time high since 2008. Couples are increasingly less concerned with the economy and are comfortable investing more than ever in the once-in-a-lifetime experience of planning their wedding and making it a fabulous experience for their guests."
Big bucks
But let's face it folks—fabulousness doesn't come cheap, in fact it can run you $28,427 for the entire wedding and that's not even counting the honeymoon, the survey found.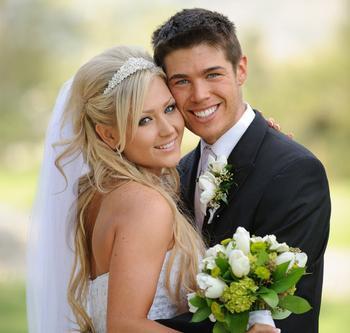 Here are just some of the financial breakdowns:
On average, it'll cost you $12,905 for the venue, $2,379 for the photographer, $1,997 for the flowers and $3,084 if you want a band for your reception, which is a hefty amount to pay for a bunch of cover songs--I'm mean, how many different versions do we really need of "Twist and Shout" anyway?
Some of the other wedding costs include $1,619 for a videographer, $708 for the limo and even the rehearsal dinner will run you a cool $1,135.
But unfortunately, as we all know, high cost doesn't guarantee high quality and some of our readers who have planned a wedding can easily attest to this.
In our ConsumerAffairs Weddings section, there are numerous tales of great plans gone sour and there are a handful of companies--like the wedding site HeleneBridal.com--that have really loused up some peoples weddings.
This is what Danielle of Lake Forest, Calif. had to say about Helene Bridal after she ordered a dress for her wedding day:
"If you look at the tab on the website, it says 'wholesale cheap wedding dresses.' Very accurate," she wrote. "The dress I ordered was indeed cheap. The color of the bodice didn't match the skirt and the dress in the photo wasn't the dress I received. I contacted the company, but since it wasn't within their allotted '24 hour notification return policy,' they won't take back the dress."
"In fact, customer service told me to contact the manufacturer, take photos and maybe they will give me some sort of discount, taking no responsibility for the products they are selling. Please, please think twice before ordering. That return policy is definitely their loophole to get away with ripping people off."
We reached out to HeleneBridal for a comment and we're waiting for a response.
Priciest spots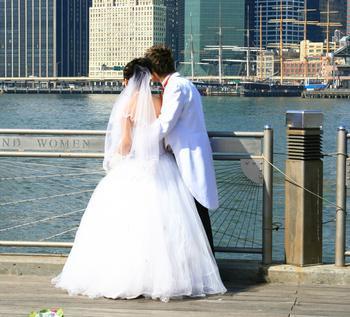 As far as the most expensive places to get married, according to the survey, New York City is at the top of the list, so if you want to exchange vows in a Manhattan loft overlooking the Hudson, complete with the Upper Westside reception, it'll just cost you a meager $76,687--but keep in mind that City Hall is just a cab ride away and you'll still be able to get married in Manhattan, right?
Next on the most-expensive-wedding-destination list is Chicago, third is the New York Metropolitan area, then New Jersey, Rhode Island, Santa Barbara/Ventura Calif. and Boston, closing out the top seven.
Look, many people dream of having a celebrity-style wedding, sometimes so much so that fulfilling that dream ends up being the deciding factor in their decision to get married.
But others know that even the fanciest and biggest wedding won't be a springboard that determines how well a marriage is going to do, and with finances being one of the main topics of argument and divorce among married couples, maybe you shouldn't start your lives together in debt.
Just a thought.
---