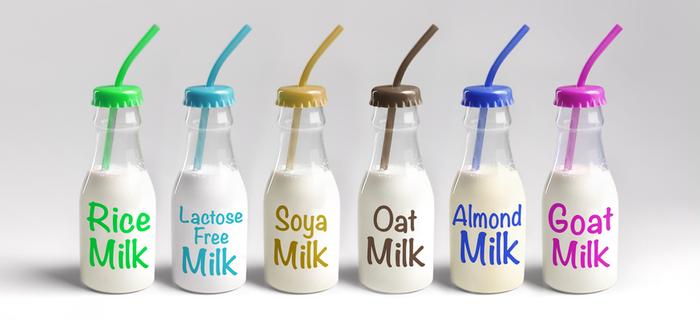 Many consumers have adopted plant-based diets in recent years as a way of being both healthier and more eco-friendly. 
While swapping out red meat for plant-based options has become popular, so have plant-based milk alternatives (PBMAs), like almond milk, cashew milk, oat milk – the list goes on. 
Now, in an effort to make things as clear as possible for shoppers picking up these products, the Food and Drug Administration (FDA) is recommending changes to the packaging and nutrition labels on milk alternatives. 
"Today's draft guidance was developed to help address the significant increase in plant-based milk alternative products that we have seen become available in the marketplace over the past decade," said FDA Commissioner Dr. Robert Califf. "The draft recommendations issued today should lead to providing consumers with clear labeling to give them the information they need to make informed nutrition and purchasing decisions on the products they buy for themselves and their families."  
In short, the FDA draft guidance says plant-based milk products can be called milk as long as the label makes clear what was used to make it.
Getting clearer on labeling
The goal is to make the labeling clearer and easier for consumers to understand when they're in the store and deciding between different milk products. 
The FDA is recommending that PBMAs that have the word "milk" in their names include information on their labels that shows how they're different from traditional milk products. Options like oat milk, hemp seed milk, coconut milk, and flaxseed milk – among several others – all differ in nutritional content – from each other, and from dairy milk. 
The new guidance would require PBMAs to have labels that indicate how these options are nutritionally different. This could look like how vitamin or calcium levels in plant-based choices compare to the vitamin and calcium makeup of traditional milk options. 
While these recommendations are still in the draft phase, plant-based milk distributors can decide at this point whether or not they want to update their labeling. 
"Food labels are an important way to help support consumer behavior, so we encourage the use of the voluntary nutritional statements to better help customers make informed decisions," said Susan T. Mayne, Ph.D., director of the FDA's Center for Food Safety and Applied Nutrition.