---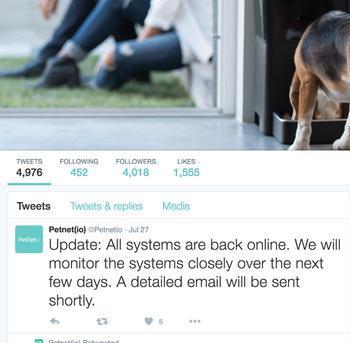 The Internet of Things may be the next big thing, but don't try telling that to your dog. Internet-controlled pet-feeding contraptions went offline for up to 10 hours last week, leaving dogs and cats scratching for their next meal.
PetNet said a malfunction -- what else? -- left furry friends not knowing where their next meal was coming from. 
"We are experiencing some difficulties with one of our third party servers. You may experience a loss of scheduled feeds and failed remote feedings," the company said in an email to its customers.
"Please ensure that your pets have been fed manually until we have resolved this issue," PetNet added, advice that was of little use to consumers who had left home for the day, counting on PetNet to do what it had supposedly been trained to do.
Not so intelligent after all
The system in question is "SmartFeeder," which PetNet calls "the world's first intelligent pet feeder that will program itself around your life and the wellness of your pet." Well, actually, if you consider pet owners intelligent, it would be the second intelligent pet feeder but who's quibbling?
The SmartFeeder, which sells for $225 on Amazon, is controlled through an app on pet owners' smartphones. 
The company said only about 10% of its customers were affected and blamed the disruption on a server issue, conceding that the server in question did not have adequate redundancy and vowed to correct that promptly.
Users trashed the company on social media, but there were no confirmed reports of serious harm to any four-legged consumers. 
---