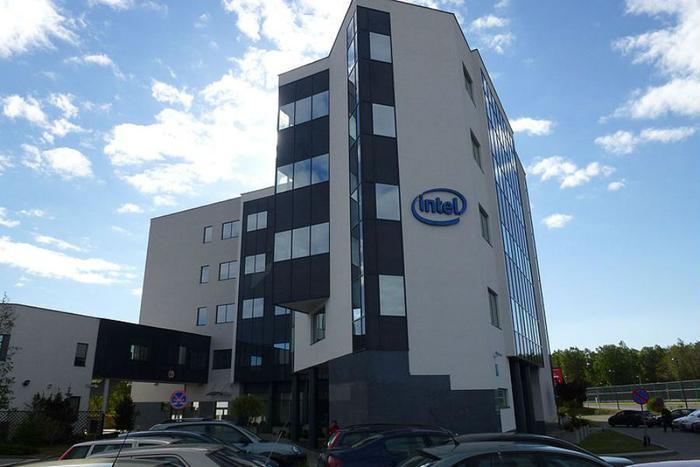 Companies from the U.S. and abroad are increasingly choosing to pump up domestic manufacturing efforts and create more jobs to fall in line with President Trump's proposed regulatory policies.
Last month, Amazon vowed to add 100,000 U.S.-based jobs by mid-2018 by creating additional warehouses in Texas, Florida, California, and New Jersey. It followed that up last week when it announced plans to build a $1.5 billion cargo airline hub in Northern Kentucky. Several South Korean companies have also considered building operations in the U.S. to avoid future import taxes.
Now, after meeting with the President on Wednesday, Intel has announced that it will be building a chip manufacturing plant in Arizona, according to the New York Times. The $7 billion project will reportedly create "approximately 3,000 high-tech, high-wage Intel jobs" in the state.
"The people of Arizona will be very happy. It's a lot of jobs," said Trump, stating that Intel had called several weeks ago to coordinate the announcement.
Treading carefully
The move by Intel mirrors what other tech companies are trying to do to stay in line with proposed policy changes under the new administration. While the deal was received amicably by Trump and his staff, Intel has lined up against the new commander-in-chief on other issues.
Intel was one of many companies that signed a legal brief challenging Trump's executive order that sought to ban immigrants from seven predominantly Muslim countries. CEO Brian Krzanich spoke out against the order online in support of immigration.
"As a company co-founded by an immigrant, we support lawful immigration," he said in a Twitter post. Similarly, the company has spoken out against Trump's desire to end free-trade agreements, saying that it cares "about exporting our products all over the world."
Still, Intel has vowed to take a non-political stance, despite the up-and-down relationship it has developed with Trump since his days on the campaign trail. Executive vice president Stacy J. Smith said that the company will continue to engage with the government. "Intel engages, whatever the administration. We focus on the issues that we care about," she said in an interview.
And some of those issues that the company cares about seem to fall in line with the Trump agenda. The company has supported proposals that would reduce corporate taxes and regulations, after all.
Creating the "most powerful computer chips"
But whatever the stance, the new chip factory that Intel proposed could be a boon to the economy. The project was undertaken in 2011, but it stymied in 2014 after sales of personal computers that used its chips began to slip.
However, the company's new focus on internet-connected devices, cars, and tablets have resulted in growing sales. The new factory will be used to create ultradense chips that are faster and more energy-efficient – products that Krzanich says are "the most powerful computer chips on the planet."
"Intel is a global manufacturing and technology company, yet we think of ourselves as a leading American innovation enterprise. America has a unique combination of talent, a vibrant business environment and access to global markets, which has enabled U.S. companies like Intel to foster economic growth and innovation," the CEO said in a company statement.