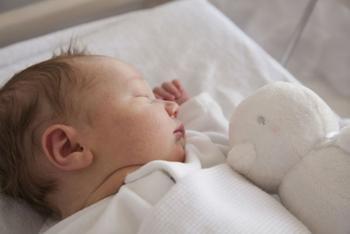 The nursery may be stocked with a crib and ready for use, but pediatricians say new parents should wait a while before letting their infant sleep in their own quarters.  
For at least the first six months of a child's life -- ideally, up to age 1 -- infants and parents should be sharing the same room, according to a new report from the American Academy of Pediatrics.
The organization stresses that room-sharing does not equal bed-sharing; infants should sleep on a separate surface, such as a crib or bassinet. Creating a safe sleep environment near parents could reduce the risk of SIDS by as much as 50%, the authors of the report say.
Easier monitoring
In addition to reducing the risk of SIDS and other sleep-related infant deaths, keeping a baby close to mom and dad during the night can make monitoring and feeding the baby easier.  
"A baby that is within reach of their mother may have more comfort, or physical stimulation from being in an environment with another person," Dr. Lori Feldman-Winter, member of the Task Force on SIDS and co-author of the report, told CNN.
Keeping babies in close proximity of mothers can also make breastfeeding easier, which can slash the risk of SIDS by as much as 70%. "Breastfeeding protects against many adverse outcomes," Feldman-Winter added.
But because mothers may fall asleep during feedings, the AAP recommends keeping parents' beds free of pillows, loose sheets, blankets, or other items that could suffocate the baby. 
Firm sleeping surface
The new recommendations, published Monday in the online journal Pediatrics, are the first update to the AAP's recommendations on safe infant sleep since 2011. 
The new report states that children should sleep on firm, flat surfaces free of any soft items which could cause suffocation. Additionally, parents should make sure to lay infants down in a safe sleeping position.
In its new guidelines, the AAP recommends:
Placing the baby to sleep on his or her back.

Using a firm sleep surface (such as a crib, bassinet, portable crib, or CPSC-approved bedside sleeper) with a tight-fitting sheet.

Keeping soft bedding, crib bumpers, pillows, and soft toys out of the crib. Sleep surfaces should be bare.

Keeping babies in the same bedroom as parents (but not the same bed) for at least the first six months, preferably until the baby turns 1.

Avoiding baby's exposure to smoke, alcohol, and illicit drugs.