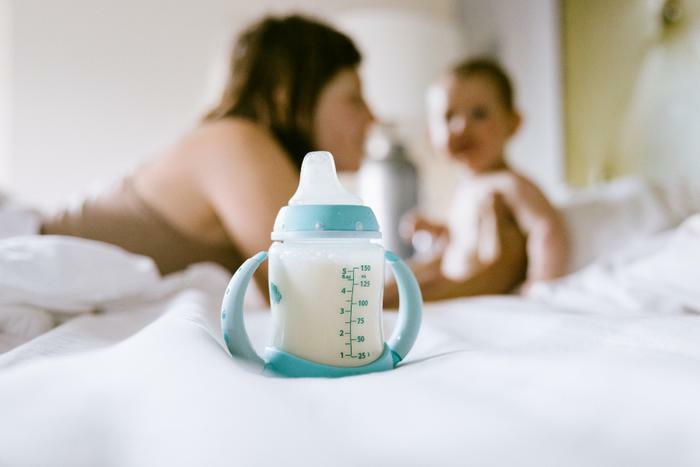 The major infant formula plant in Sturgis, Mich., that closed in February because of potential contamination has restarted, giving hope to an easing of the ongoing infant formula shortage.
Abbott Laboratories has begun the process of resuming production, but officials say it will likely take several weeks to begin turning out normal supplies. Production was suspended after two infants died from a rare bacteria that is believed to have come from the plant.
Not long after the plant closed, anxious parents reported difficulties with finding infant formula. Many reported on social media that they went to multiple stores before finding any supply. In response, the U.S. began flying containers of infant formula in from overseas.
Those efforts may be required for some time. Abbott Laboratories says it will likely take eight weeks to start restocking store shelves.
"We're also working hard to fulfill the steps necessary to restart production of Similac and other formulas and will do so as soon as we can," an Abbott spokesperson told NBC News. "We understand the urgent need for formula, and our top priority is getting high-quality, safe formula into the hands of families across America."
Not many substitutes
While older children can drink milk, newborns have very delicate digestive systems and specific nutritional requirements that are only met by breast milk and manufactured infant formula.
The shortage has some parents resorting to making formula at home by using recipes that are available online. But Dr. Kelsey Klaas, a pediatrician at the Mayo Clinic, recently told us that she strongly advises against doing that.
"There are several reasons for this," Klaas told ConsumerAffairs. "The first is the risk of contamination. Some online sites are recommending unpasteurized products, which are never safe for infants or children."
HHS investigation
Meanwhile, the U.S. Department of Health and Human Services (HHS) has announced an investigation into how the U.S. Food and Drug Administration (FDA) and Abbott Laboratories handled the plant shutdown. The FDA ordered the plant to be closed based on reports of two infant deaths and illnesses affecting five others.
Abbott Laboratories complied with the order but has denied that the bacteria came from its facility. Both the agency and the company are facing scrutiny over the handling of the situation.
ParentsTogether, a national advocacy group, launched a petition early in the crisis that urged the government to investigate. 
"We launched a petition in March calling for the Inspector General at HHS to investigate why it took the FDA and Abbott Nutrition so long to act, and more than 50,000 of our members signed," Pulin Modi, campaigns director at ParentsTogether, told ConsumerAffairs. "Thousands of parents expressed outrage, confusion, and sadness that the most vulnerable members of our society had reportedly been at risk for months, between when the first concerns about formula contamination were raised and when a recall was initiated." 
"We will determine whether FDA followed the inspections and recall process for infant formula in accordance with Federal requirements," the HHS' Office of the Inspector General said in a statement.
The Inspector General's office said it will pay particular attention to the FDA's actions leading up to the infant formula recall at the Abbott facility in February to determine whether the agency followed applicable policies and procedures.