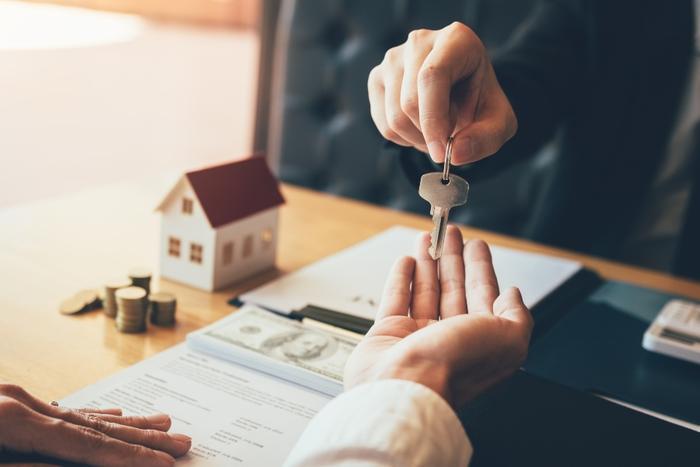 We're still a few days away from the National Association of Realtors' (NAR) existing-home sales report for April, but RE/MAX, a national brokerage firm, has provided an early glimpse of what the coronavirus (COVID-19) did to the housing market last month.
In its monthly report, RE/MAX found home sales were down an average of 20.2 percent year-over-year in April, the first full month of coronavirus stay-at-home orders. The report covers 53 U.S. markets in which RE/MAX operates.
But while buyers disappeared last month, so did sellers. The report found inventory levels plunged 20 percent as sellers decided to wait before listing their homes for sale. Because of that, home prices didn't fall -- in fact the median sale price was up nearly 10 percent from April 2019.
'Better than expected'
The stay-at-home restrictions turned one of the busiest home sale periods of the year into one of the slowest. Four major markets -- New York, Detroit, Miami, and San Francisco -- posted sales declines of more than 40 percent. Only two markets -- Minneapolis and Billings, Mont. -- reported sales increases.
"April results were better than many expected, as consumers continued to buy and sell real estate in one of the most challenging months for housing in memory," said Adam Contos, RE/MAX CEO. "This was a headwind like no other – yet we still saw activity across the country. Even in the markets that dropped 40 percent in sales, people wanted or needed to move, which says something about resiliency and the power of homeownership."
The numbers appear to confirm earlier projections that sales will continue to fall through mid-summer but will snap back in the late summer and early fall due to pent-up demand. Even with the expected rebound, experts believe home sales will be down 15 percent for the year. 
Other expected trends include a migration out of large urban markets and into smaller cities, where density is lower and housing is more affordable.
New listings needed
For the housing market to remain balanced, however, there needs to be an increase in available homes to meet that anticipated demand. Research from NAR suggests that the supply will be there.
In its survey, NAR found about 77 percent of potential sellers plan to put their homes on the market once stay-at-home orders are lifted. Half of this group used the stay-at-home period to perform do-it-yourself projects to make their homes more attractive to buyers.
"After a pause, home sellers are gearing up to list their properties with the reopening of the economy," said NAR Chief Economist Lawrence Yun. "Plenty of buyers also appear ready to take advantage of record-low mortgage rates and the stability that comes with these locked-in monthly payments into future years."
Without an increase in inventory, home prices could soar. The RE/MAX report shows April's median sale price of $276,000 was a record for the month. Should supply and demand get too far out of balance, home prices could go even higher.