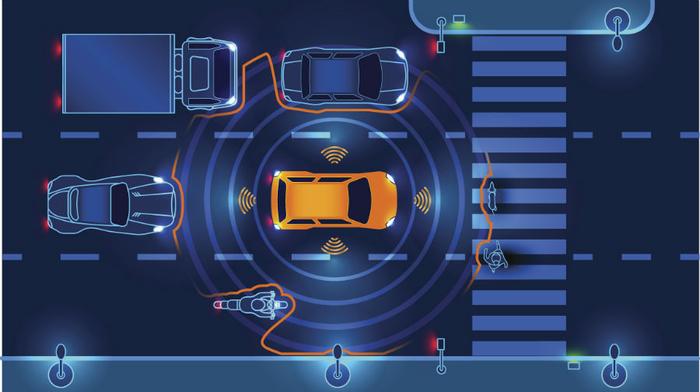 The technology in cars has quickly evolved over the last decade, from backup cameras to in-dash navigation systems to Bluetooth connectivity. But which options matter most?
Technology that makes cars safer to drive should probably get priority. The editors at AutoTrader have ranked the top automotive technology features for 2019 and safety features do indeed get prominent mention.
High resolution, multi-angle cameras
These new HD cameras showed up first in luxury models, but surround view cameras have gone mainstream in sedans and family SUVs, especially in vehicles from GM and Nissan. The cameras are credited with improving visibility around the vehicle's exterior and are especially effective at minimizing blind spots and assisting with parallel parking.
For parents with small children, the cameras can be used to keep tabs on backseat passengers. And if your current vehicle has a backup camera, you'll notice a difference in the newer models since they offer a crisp, clean, high-res image.
Collision avoidance
Self-driving cars grabbed most of the headlines in 2018, but some of this autonomous technology is making its way to high-end luxury models piloted by humans. For 2019 models, Volvo and Lexus are offering options with collision avoidance systems that can automatically swerve to miss objects in the road or keep the vehicle centered in the lane.
Road scanning
Along with collision avoidance, some luxury models are offering cameras that constantly scan the road for debris or potholes and automatically adjusts the suspension to cushion the blow. According to AutoTrader, Mercedes-Benz's Magic Body Control is among the best at implementing this feature.
Semi-autonomous steering
Semi-autonomous driving features can compensate for human error and are becoming more commonplace. AutoTrader singles out Cadillac's Super Cruise system as the most notable.
However, this feature -- sometimes called autopilot -- is controversial. It's featured on many Tesla vehicles, for example, and there have been several fatal crashes in the last two years involving Teslas in the autopilot mode. The company cautions that drivers should keep their hands on the wheel at all times.
In addition to safety features, some automotive technology makes the ride more fun for both the driver and passengers. Some models now offer a better way to connect your smartphone to the vehicle's infotainment screen, allowing you to take advantage of your apps, contacts, and music.
One big plus is the ability to use smartphone navigation apps. A few automakers, such as BMW, are also offering the connection wirelessly.
You can also use a smartphone to control your car remotely with an app. The app lets you flash the lights, honk the horn, start the engine, and even see the area around the vehicle. Tesla offers this feature, and so does Buick, Chevrolet, BMW, Lincoln, and Volvo.