---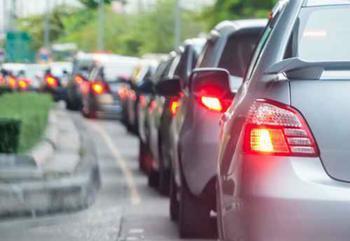 If you are traveling this Independence Day weekend – and the odds say you will be – you can expect some crowded highways.
According to the latest projections from AAA, some 43 million Americans will travel over the weekend – a record for July 4th – about five million more than traveled over the Memorial Day weekend.
Marshall Doney, CEO of AAA, credits historically low gasoline prices for the increase in travel. It also helps that Independence Day this year falls on a Monday, making for a natural three-day weekend.
Doney estimates U.S. drivers have pocketed about $20 billion in savings on gasoline so far this year compared to the same period in 2015. He expects they are now ready to spend some of it.
"We are well on our way for 2016 to be a record-breaking year for summertime travel," he said. "This trend is welcome news for the travel industry and a sign that Americans are taking to our nation's highways and skies like never before."
No jump in prices expected
Despite the expected increase in gasoline demand, consumers may continue to enjoy soft prices at the pump for a while. Gasbuddy senior petroleum analyst Patrick DeHaan Tweeted over the weekend that the Brexit vote last week has already pushed the wholesale gasoline price down six cents a gallon.
The AAA Fuel Gauge Survey shows the national average retail price of self-serve regular started the week at $2.30 a gallon and is likely to be even lower by the weekend. Today's price is down three cents from a week ago and is 47 cents lower than this time last year.
South Carolina has the nation's lowest average gasoline price, right at $2 a gallon. California has the highest, with prices rising in recent days to an average of $2.90 a gallon.
Most of this coming weekend's travelers will be on the nation's highways. According to AAA, 84% of travelers will drive to their destinations, a 1.2% increase over last year.
With lower-than-usual airfares, air travel is projected to rise 2.2% over last year's numbers, with 3.3 million people crowding U.S. airports.
---